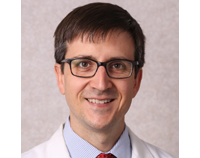 Lawrence Shirley, MD, MS, FACS
The Ohio State University
Wexner Medical Center
Columbus, OH
Bio
Supported by ATA
The American Thyroid Association has awarded a 2017 Research Grant to Lawrence A. Shirley, MD, MS, FACS, Assistant Professor of Surgical Oncology, Ohio State University Wexner Medical Center. Dr. Shirley's project is entitled "Impact of BRAF-Mutated Papillary Thyroid Cancers on Cancer-Associated Fibroblast Genotype and Phenotype." In this project, Dr. Shirley's laboratory plans to:
Perform genomic analysis of cancer-associated fibroblasts (CAFs) from mouse models, expecting to uncover new markers and treatment targets.
Assess how thyroid CAF-secreted factors, as well as cell-cell contact, affect cancer cell function.
Thyroid cancer currently has the highest increase rate and is projected to become by 2030 the fourth most common cancer among all patients and the second most common in women. Most patients are successfully treated with surgical excision and radioactive iodine therapy but, for those whose cancers do not respond, no other curative therapies are available at present. We are uncertain whether to treat these patients more aggressively or more conservatively. We need to discover new biomarkers and novel treatments.
In other cancer types, significant research has been performed on a "normal" cell type that supports cancer growth, the cancer-associated fibroblast. The CAF has been shown to facilitate growth of cancer cells and to aid in their ability to spread to distant sites. Information derived from CAFs has further been shown to help predict how other cancers respond to traditional therapies. However, the role of CAFs in thyroid cancers is largely unknown. Dr. Shirley's laboratory has been able to isolate CAF cells from mouse models of thyroid cancer. This will allow them to study properties of the CAFs themselves, as well as their interactions with primary thyroid cancer cells.
His laboratory has previously found that increased expression of specific markers in thyroid CAFs correlated significantly with patient outcomes, indicating a possible role of CAFs as a tumor-specific biomarker and as an active participant in tumor aggressiveness.
Lawrence A. "Drew" Shirley MD, MS, FACS, is an Assistant Professor in the Division of Surgical Oncology at Ohio State University Wexner Medical Center, as well as the Associate Program Director of the Surgical Oncology Fellowship. Dr. Shirley received his BA in English/Molecular Biology at Vanderbilt University and his MD from the University of Kentucky College of Medicine. He went on to complete his General Surgery Residency at Thomas Jefferson University Hospital and a Surgical Oncology Fellowship at Ohio State University. While in Fellowship, he also received a Master's Degree in Medical Science. He joined the faculty at Ohio State University in October 2014. He is board-certified in general surgery and complex general surgical oncology. His clinical practice focuses on the surgical management of endocrine disease, including thyroid, parathyroid, and adrenal diseases.
______________
Dr. Motoyasu Saji, Chair, ATA Research Committee, says, "The ATA research grant program supports young scientists in thyroid-related research, including clinical, translational, and basic areas. Every year we receive over 50 grant applications from various countries. We are excited to see young thyroid researchers who attack current clinical problems and basic scientific questions using state-of-the-art technologies, new ideas, and new views. Many current leaders in the ATA were award recipients, which shows how important this program is for us. We hope these grants will be gateways to success in their careers as thyroid researchers and that the recipients will become leaders in the next generation of the ATA. Finally, we appreciate all the support we receive from members and various organizations, including thyroid cancer survivors, which makes it possible to create this excellent program."
The American Thyroid Association (ATA) has awarded 92 thyroid research grants totaling over $2.4 million since the inception of the Research Fund. In addition, the ATA rigorously manages the selection of research projects and the distribution of over $1.8 million generously donated to the ATA specifically for research grants from: ThyCa, the Thyroid Cancer Survivors' Association, Inc.; Bite Me Cancer; and the Thyroid Head and Neck Cancer Foundation.
The Thyroid Cancer Survivors' Association, Inc. (ThyCa), has provided funding since 2003 in support of 67 special research grants totaling $1,881,250 focused on thyroid cancer and medullary thyroid cancer. ThyCa is supporting three research grants in 2017 and four renewing grants. ThyCa is a member of the ATA Alliance for Patient Education. Find out more at www.thyca.org.
Bite Me Cancer (BMC) is our newest grant funder, supporting seven thyroid cancer grants since 2014 for a total of $201,250. BMC will be supporting a new thyroid cancer grant in 2017 and one renewing grant. BMC is a member of the ATA Alliance for Patient Education. Find out more at www.bitemecancer.org.
###
The American Thyroid Association (ATA) is the leading worldwide organization dedicated to the advancement, understanding, prevention, diagnosis, and treatment of thyroid disorders and thyroid cancer. ATA is an international, individual membership organization for over 1,700 clinicians and researchers from 43 countries around the world, representing a broad diversity of medical disciplines. It also serves the public, patients and their families through education and awareness efforts.
Celebrating its 94th anniversary, ATA delivers its mission through several key endeavors: the publication of highly regarded monthly journals, THYROID, Clinical Thyroidology, VideoEndocrinology, and Clinical Thyroidology for the Public; annual scientific meetings; biennial clinical and research symposia; research grant programs for young investigators; support of online professional, public, and patient educational programs; and the development of guidelines for clinical management of thyroid disease.
Find out more about ATA at www.thyroid.org.