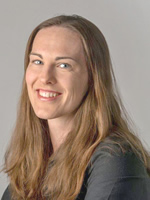 Vicki Emma Smith, PhD
University of Birmingham
Edgbaston
Birmingham, UK.
Bio
Supported by ATA
The American Thyroid Association has awarded a 2017 Research Grant, funded by the Thyroid Cancer Survivors' Association, Inc. (ThyCa), to Vicki Emma Smith, PhD, Lecturer in Molecular Endocrinology at the University of Birmingham, UK. Dr. Smith's project, "A New Molecular Switch in Thyroid Cancer," undertakes to improve our understanding of thyroid tumors and to consider PBF phosphorylation as a potential new drug target for the treatment of thyroid cancer.
The use of new technologies has allowed researchers to identify the mutations that turn normal cells into cancer cells, which then develop into tumors. These new technologies have also identified many other kinds of molecular changes in cancer cells. Understanding how each of these changes contributes to the growth of cancers and their development into more aggressive, hard-to-treat tumors is essential. Increasing the knowledge of thyroid tumor biology will help to better predict how the tumor will behave and what treatment it will respond to most effectively. It will likely also identify new therapeutic targets.
One of the changes often seen in thyroid cancer cells is an increase in the pituitary tumor-transforming gene-binding factor (PBF) protein. High PBF levels have been linked with more aggressive thyroid tumors and their resistance to radioiodine treatment. We now believe that a modified (phosphorylated) version of this protein contributes to thyroid tumor growth and progression to more aggressive disease. This project aims to fully understand the role of PBF and its phosphorylated form in thyroid tumors. Dr. Smith's research group has already shown that we can use drugs to inhibit PBF phosphorylation; therefore, this project will not only improve our understanding of thyroid tumors but will also consider PBF phosphorylation as a potential new drug target for the treatment of thyroid cancer.
Dr. Smith graduated with an Honors Degree in Medical Biochemistry from the University of Leicester and then spent several years in industry performing genetic association studies of various disorders, including autoimmune thyroid disease. She completed her PhD investigating the downregulation of NIS and critical radioiodine treatment in thyroid cancer, then continued this research as a Medical Research Council-funded Post-Doctoral Researcher in Birmingham. She has published several high-impact papers and received several prestigious academic prizes and awards. Recently she took up her current position at the University of Birmingham and is building an independent research group focused on the molecular pathogenesis of thyroid cancer. Her main research interests include investigating thyroid cancer signaling pathways, improving radioiodine treatment, and identifying novel therapies. She is a member of the Society for Endocrinology Science Committee and the British Thyroid Association Executive Committee.
______________
Dr. Motoyasu Saji, Chair, ATA Research Committee, says, "The ATA research grant program supports young scientists in thyroid-related research, including clinical, translational, and basic areas. Every year we receive over 50 grant applications from various countries. We are excited to see young thyroid researchers who attack current clinical problems and basic scientific questions using state-of-the-art technologies, new ideas, and new views. Many current leaders in the ATA were award recipients, which shows how important this program is for us. We hope these grants will be gateways to success in their careers as thyroid researchers and that the recipients will become leaders in the next generation of the ATA. Finally, we appreciate all the support we receive from members and various organizations, including thyroid cancer survivors, which makes it possible to create this excellent program."
The American Thyroid Association (ATA) has awarded 85 thyroid research grants totaling over $2.4 million since the inception of the Research Fund. In addition, the ATA rigorously manages the selection of research projects and the distribution of over $1.8 million generously donated to the ATA specifically for research grants from: ThyCa, the Thyroid Cancer Survivors' Association, Inc.; Bite Me Cancer; and the Thyroid Head and Neck Cancer Foundation.
The Thyroid Cancer Survivors' Association, Inc. (ThyCa), has provided funding since 2003 in support of 67 special research grants totaling $1,881,250 focused on thyroid cancer and medullary thyroid cancer. ThyCa is supporting three research grants in 2017 and four renewing grants. ThyCa is a member of the ATA Alliance for Patient Education. Find out more at www.thyca.org.
Bite Me Cancer (BMC) is our newest grant funder, supporting seven thyroid cancer grants since 2014 for a total of $201,250. BMC will be supporting a new thyroid cancer grant in 2017 and one renewing grant. BMC is a member of the ATA Alliance for Patient Education. Find out more at www.bitemecancer.org.
###
The American Thyroid Association (ATA) is the leading worldwide organization dedicated to the advancement, understanding, prevention, diagnosis, and treatment of thyroid disorders and thyroid cancer. ATA is an international, individual membership organization for over 1,700 clinicians and researchers from 43 countries around the world, representing a broad diversity of medical disciplines. It also serves the public, patients and their families through education and awareness efforts.
Celebrating its 94th anniversary, ATA delivers its mission through several key endeavors: the publication of highly regarded monthly journals, THYROID, Clinical Thyroidology, VideoEndocrinology, and Clinical Thyroidology for the Public; annual scientific meetings; biennial clinical and research symposia; research grant programs for young investigators; support of online professional, public, and patient educational programs; and the development of guidelines for clinical management of thyroid disease.
Find out more about ATA at www.thyroid.org.