American Thyroid Association's 2017 Sidney H. Ingbar Distinguished Award Lecture Delivered by Yuri Nikiforov, MD, PhD
ATA selects Sidney H. Ingbar Distinguished Award recipient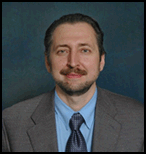 October 16, 2017—The American Thyroid Association (ATA) is pleased to announce that the 2017 Sidney H. Ingbar Distinguished Award will be received by Yuri Nikiforov, MD, PhD, who is Vice Chair and Director of the Division of Molecular and Genomic Pathology, Department of Pathology, University of Pittsburgh School of Medicine (UPMC).
The Sidney H. Ingbar Distinguished Lectureship Award, en dowed by contributions to honor the memory of Sidney H. Ingbar, recognizes outstanding academic achievements in thyroidology, in keeping with the innovation and vision that epitomized Dr. Ingbar's brilliant investigative career. The Ingbar award is conferred upon an established investigator who has made major contributions to thyroid-related research over many years. At the ATA annual meeting in Victoria, British Columbia, Dr. Nikiforov will deliver the Ingbar Lecture at 1:00 pm on October 21, 2017. His lecture title is "Genomic Evolution of Thyroid Nodules and Cancer – New Answers to Old Questions."
Dr. Nikiforov received his MD with Honors from Minsk Medical Institute in Belarus and his PhD from the same Institute's Laboratory of Experimental Pathology. He then spent 15 years in postdoctoral research, in both pathology and endocrinology, first at the Minsk City Hospital, then at the Rhode Island City Hospital/Brown University, the Cedars-Sinai Medical Center/UCLA School of Medicine in Los Angeles, and the University of Cincinnati College of Medicine. He is certified in Anatomic Pathology by the American Board of Pathology.
With his colleagues, Dr. Nikiforov documented the genetic changes to the thyroid that occur in the setting of radiation injury, resulting in malignant transformation. His patients for this study were children who had been exposed to radiation by the Chernobyl nuclear plant accident. This and other basic science discoveries over the years are combined with his work in thyroid cancer diagnosis (introducing mutational markers, enabling highly accurate diagnoses in thyroid nodules, and more) and with developing a method for molecular testing to identify thyroid cancers, thereby reducing the number of surgeries.
In addition to many academic honors and awards, both national and international, Dr. Nikiforov currently serves on the editorial boards of three journals—Endocrine Pathology, Human Pathology, and Thyroid Research—and has served on the boards of two additional journals in the past.
Dr. Nikiforov joined the ATA in 2000 and has served and contributed to the Research and Program Committees, Guidelines for Management of Anaplastic Thyroid Cancer; and, Differentiated Thyroid Cancer; as well as, annual meeting faculty over many years.
Lectures and seminars on thyroid health, pathology, research, clinical care, and molecular genetics have called Dr. Nikiforov to universities, symposia, conferences, and annual meetings around the world. He has published substantial numbers of peer-reviewed articles (his CV lists 158 in which he has taken part), additional articles (25), books (2), book chapters (10), and several other publications.
As Dr. Sally Carty, Chief of the Division of Endocrine Surgery at UPMC, states in her award nomination letter, "Dr. Nikiforov humbly, ably, and outstandingly embodies" the qualities required for the Ingbar Award. She continues, he is "a pluripotent thyroidologist, scientist, mentor, and instigator of change of behalf of patients."
###
The American Thyroid Association (ATA) is the leading worldwide organization dedicated to the advancement, understanding, prevention, diagnosis, and treatment of thyroid disorders and thyroid cancer. ATA is an international membership medical society with over 1,700 members from 43 countries around the world. Celebrating its 94th anniversary, the ATA continues to deliver its mission of being devoted to thyroid biology and to the prevention and treatment of thyroid disease through excellence in research, clinical care, education, and public health.  These efforts are carried out via several key endeavors:
The publication of the highly regarded professional journals Thyroid, Clinical Thyroidology, and VideoEndocrinology
Annual scientific meetings
Biennial clinical and research symposia
Research grant programs for young investigators
Support of online professional, public, and patient educational programs
Development of guidelines for clinical management of thyroid disease and thyroid cancer
The ATA promotes thyroid awareness and information online through Clinical Thyroidology for the Public and extensive, authoritative explanations of thyroid disease and thyroid cancer in both English and Spanish. The ATA website serves as the clinical resource for patients and the public who look for reliable information on the Internet. Every fifth year, the American Thyroid Association joins with the Latin American Thyroid Society, the European Thyroid Association, and the Asia and Oceania Thyroid Association to cosponsor the International Thyroid Congress (ITC).