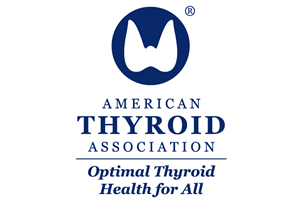 Alexandria, VA, September 5, 2023 — The American Thyroid Association (ATA®)'s new review paper, "Thyroid stimulating hormone and thyroid hormones (T3 and T4): an ATA-commissioned review of current clinical and laboratory status" is now available online in Thyroid®.
The manuscript was drafted by a global expert writing task force comprised of Katleen Van Uytfanghe, Joel Ehrenkranz, David Halsall, Kelly Hoff, Tze Ping Loh, Carole A. Spencer and Josef Köhrle. The document reviews the current clinical use of routine TSH and thyroid hormone (T4 and T3) assays, taking into account geographic differences in disease prevalence, clinical and laboratory practice as discussed and compiled among the writing task force members. The manuscript includes the "Thyroid Hormone Measurement: Clinical Algorithm" table that summarizes key perspectives. The final document integrates feedback from the ATA Board of Directors and Guidelines and Statements Committee, and it underwent formal peer-review in Thyroid®. Potential author conflict of interest was managed, and transparency maintained in formulating the manuscript.
"This is an extremely important analysis as it reviews the strengths and limitations of the laboratory tests that we have available to assess thyroid function. Understanding these issues allows clinical chemists and health providers to provide evidence-based decisions about the care of patients with thyroid disorders," said Jacqueline Jonklaas, MD, PhD, Secretary of the American Thyroid Association.
Thyroid hormone-related dysfunction is amongst the most common diseases of the hormone system, especially in women, which is why L-Thyroxine ranks among the top 10 list of medical prescriptions worldwide. Laboratory diagnosis of thyroid status and monitoring of thyroid hormone therapy is based on measurement of the blood TSH concentration as the first line parameter, while determination of the thyroid (pro-)hormone T4 and its bioactive form T3 are only required for further differential diagnosis. Thus, TSH is one of the most frequently measured analytes in the outpatient setting. Over the last five decades, testing for TSH, T4 and T3 has evolved from demanding manual assays to highly automated immunoassay systems with substantial clinical utility. The strengths and limitations of the major thyroid tests currently in use are discussed in this publication. The paper is not a systematic review. There is a need to improve communication between Physicians and the Laboratorians performing these tests in order to understand the limitations of these methods and to optimize ordering and interpretation of thyroid tests. Standardization/harmonization, quality and performance of assays currently used in laboratory thyroid testing needs to be maintained and improved to aid the development and application of emerging assay methodologies and their correct interpretation. Such an approach will enable exchange, application and interpretation of test results within the global medical community for rational and optimal evidence-based state of the art care for patients with thyroid hormone-related diseases.
This review document is expected to be a useful reference tool for the global community. The document does not establish standard procedures for TSH and thyroid hormone measurements. This review does not intend to take the place of physician judgment in ordering and performing diagnostic tests for particular patients.
About the American Thyroid Association®
The American Thyroid Association® (ATA) is dedicated to transforming thyroid care through clinical excellence, education, scientific discovery and advocacy in a collaborative and diverse community. ATA® is an international professional medical society with over 1,700 members from 43 countries around the world. The ATA® promotes thyroid awareness and information through Clinical Thyroidology® for the Public, a resource that summarizes research for patients and families, and extensive, authoritative resources on thyroid disease and thyroid cancer in both English and Spanish. The ATA® website www.thyroid.org serves as a bonafide clinical resource for patients and the public who look for reliable thyroid-related information.