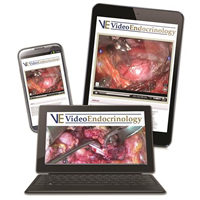 Mary Ann Liebert, Inc., publishers and the American Thyroid Association (ATA) are pleased to announce that Dr. William B. Inabnet, III, Chairman of the Department of Surgery at Mount Sinai Beth Israel (New York) and The Eugene W. Friedman, MD, Professor of Surgery and the Surgical Director of the Diabetes, Obesity and Metabolism Institute at the Icahn School of Medicine at Mount Sinai has been appointed incoming Editor-in-Chief of VideoEndocrinology effective in 2018. Dr. Inabnet is also the inaugural Director of Endocrine Surgery Quality for the Mount Sinai Health System.
Gerard M. Doherty, MD, Surgeon-in-Chief, Brigham and Women's Hospital, Harvard University, has provided strong leadership for VideoEndocrinology since its inception in 2014. We are very grateful for his invaluable work and guidance in founding the first broad-based videojournal in endocrinology. Dr. Doherty will be stepping down from his role at the end of 2017.
"Dr. Inabnet was selected as Editor-in-Chief by an ATA search committee from a pool of very strong candidates because of his experience with audiovisual production and presentation, his vision, and his prominent position in the field of Endocrine Surgery. The interest of this outstanding field of candidates in the position speaks to the importance of VideoEndocrinology, especially to surgeons performing thyroid, parathyroid, and adrenal procedures," says, John C. Morris, III, MD, President of the ATA, and Professor of Medicine, Mayo Clinic, Rochester, MN. "With Barry's leadership we look forward to continued growth and stature of this groundbreaking videojournal, continuing the trajectory established by its inaugural Editor-in-Chief, Dr. Gerard Doherty."
Dr. Inabnet attended the University of North Carolina at Chapel Hill where he received his undergraduate and medical school education. He completed his residency in general surgery at Rush Medical College and Rush-Presbyterian-St Luke's Medical Center in Chicago. Dr. Inabnet then completed a fellowship in endocrine surgery at Cochin Hospital in Paris, where he trained under Professor Yves Chapuis, a world leader in the field of endocrine surgery and targeted parathyroidectomy.
An international authority in the field of minimally invasive endocrine surgery, Dr. Inabnet has pioneered new techniques in minimal access endocrine neck surgery as well as adrenal and pancreatic surgery. In 1998, he helped perform the first endoscopic thyroid resection in the United States (2nd in the world), and has since helped advance the field of video-endoscopic neck surgery. Dr. Inabnet was among the first surgeons in the United States to introduce remote access thyroid surgery and is one of the few surgeons in the world who performs transaxillary, bilateral axillo-breast approach (BABA), and transoral endoscopic thyroid surgery.
Dr. Inabnet is also a leader in the field of minimally invasive metabolic surgery with an interest in disorders of the endocrine system in obese patients, especially type 2 diabetes and malignancy.  Dr. Inabnet has participated in national and international clinical trials evaluating the role of gastrointestinal surgery in treating diabetes. He holds numerous leadership positions in the American Association of Endocrine Surgeons, American Association of Metabolic and Bariatric Surgery, the American College of Surgeons, and the American Thyroid Association.
Dr. Inabnet has authored more than 180 peer-reviewed articles and book chapters, and five textbooks. He lectures throughout the world and was inducted into the Southern Surgical Association, the American Surgical Association, the French National Academy of Surgery, and the French Academy of Medicine.
"I am truly delighted that Dr. Barry Inabnet has agreed to be at the helm of VideoEndocrinology, which fills a unique niche among the many endocrinology-focused publications," says Peter A. Kopp, MD, Editor-in-Chief of the flagship journal Thyroid and Professor of Medicine, Division of Endocrinology, Metabolism, and Molecular Medicine, Northwestern University Feinberg School of Medicine, Chicago. "His broad surgical expertise combined with extensive experience in the production of audiovisual materials and a dynamic vision make him ideally suited for this position. I also wish to thank Dr. Gerard Doherty for serving as the inaugural Editor-in-Chief of VideoEndocrinology and for establishing it as an important element of the Thyroid Journal Program."
Mary Ann Liebert, Inc., publishers and the American Thyroid Association look forward to the strong continuing commitment of our editorial board, reviewers, and authors.
About the ATA
The American Thyroid Association (ATA) is the leading worldwide organization dedicated to the advancement, understanding, prevention, diagnosis and treatment of thyroid disorders and thyroid cancer. ATA is an international individual membership organization for over 1,700 clinicians and researchers from 43 countries around the world, representing a broad diversity of medical disciplines. It also serves the public, patients and their family through education and awareness efforts.
Celebrating its 94th anniversary, ATA delivers its mission through several key endeavors: the publication of highly regarded monthly journals, Thyroid, Clinical Thyroidology, VideoEndocrinology and Clinical Thyroidology for the Public; annual scientific meetings; biennial clinical and research symposia; research grant programs for young investigators, support of online professional, public and patient educational programs; and the development of guidelines for clinical management of thyroid disease.
More information about ATA is found here.