World Thyroid Day 2018 Flyer (PDF File, 221 KB)


Join the American Thyroid Association® (ATA) (www.thyroid.org), in cooperation with the European Thyroid Association (www.eurothyroid.com) on May 25th to commemorate 10 YEARS of Global Thyroid Awareness!
Thyroid hormones regulate the body's metabolism—the rate at which the body produces energy from nutrients and oxygen—and affects critical body functions, such as energy level and heart rate. Almost everyone knows someone affected by thyroid disease or thyroid cancer and the ATA is proud to promote international awareness on World Thyroid Day so that symptoms, diagnosis, and treatment of conditions are available around the globe.
Spreading awareness of the importance of the THYROID on World Thyroid Day is key to the ATA's mission as the leading organization devoted to thyroid biology and to the prevention and treatment of thyroid disease through excellence in research, clinical care, education, and public health.
Here are some of the KEY RESOURCES available year-round that the ATA provides to spread awareness and education on thyroid conditions:
World Thyroid Day on Crowdrise
SHOW YOUR SUPPORT: Your interest and support creates energy and momentum for the clinicians and researchers around-the-world who are on the frontlines of thyroid treatments and investigations. With your help, we can improve outcomes for patients and families who are affected globally by thyroid diseases and thyroid cancer.
We invite and encourage you to take a moment on the 25th of May, World Thyroid Day, to help ATA® continue to serve patients, families, and the physicians to treat them by making a donation on the ATA® World Thyroid Day Donation Page: https://www.crowdrise.com/world-thyroid-day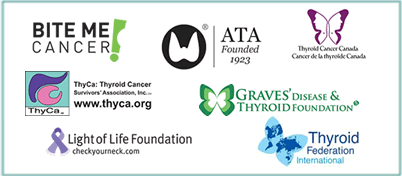 ATA ALLIANCE FOR THYROID PATIENT EDUCATION collaborates to provide accurate and reliable information for patients about the diagnosis, evaluation and treatment of thyroid diseases.