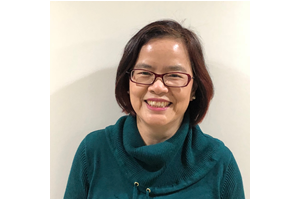 November 1, 2019—The American Thyroid Association (ATA) announces with pleasure that the 2019 John B. Stanbury Thyroid Pathophysiology Medal will be awarded to Dr. Sissy M. Jhiang at the ATA Annual Meeting this week. Dr. Jhiang is the Professor of Physiology and Cell Biology at the Ohio State University (OSU), member of the OSU Comprehensive Cancer Center and Graduate Faculty member for multiple graduate programs.
The Stanbury Medal recognizes outstanding research contributions, either conceptual or technical, to the understanding of thyroid physiology or the pathophysiology of thyroid disease, that have had a major impact on research or clinical practice. The medal is traditionally conferred at the ATA Annual Meeting, held this year from October 30 to November 3 in Chicago, Illinois.
She received her M.S, in Radiation Biology from the National Tsing-Hua University, in Taiwan and her Ph.D.in Zoology from The University of Texas at 1987 at the University of Texas, Austin. She then went on to be an Instructor, Department of Pharmacology at Baylor College of Medicine in Houston, Texas until 1989.
Upon joining  the Ohio State University in 1990, her research endeavors have focused on the study of thyroid cancer. She has investigated the molecular mechanisms underlying thyroid tumorigenesis and tumor progression using cultured cells, genetically engineered mouse models, and patients' samples for many years. In addition, she has made seminal contributions in the study of Na+/I- symporter (NIS), the membrane transporter that mediates targeted radioiodine imaging and therapy for thyroid cancer, as well as the accompanied adverse side effects of non-targeted tissues, in particular salivary glands. Her expertise and broad knowledge is in thyroid cancer mouse models, microSPECT/microCT imaging, NIS modulation in thyroid and salivary glands, as well as current challenges of radioiodine therapy in the clinical management of thyroid cancer patients. Her current ongoing projects include:
Small molecule inhibitor enhanced radioiodine therapy for thyroid cancer
Mechanisms underlying phenotypic heterogeneity of radioiodine refractory thyroid cancer
Image-guided assessment of responsiveness to therapy in thyroid cancer; and
Individual-risk-stratification and intervention for radioiodine induced salivary gland dysfunction.
Dr. Jhiang joined the ATA in 1995 and has been very involved in the Association.  She has served and chaired on over a dozen committees, serves on the Thyroid Editorial Board and is currently the President of the Women in Thyroidology task force. She is also the 2002 recipient of the prestigious Van Meter Award.
Dr. Jhiang's findings have had a high impact on thyroid physiology and thyroid cancer biology. Her three decades of very productive research, teaching, writing, and continuous contributions to our understanding of the pathophysiology of thyroid disease make her an extremely appropriate recipient of the 2019 John B. Stanbury Pathophysiology Medal.
###
The American Thyroid Association® (ATA) is dedicated to transforming thyroid care through clinical excellence, education, scientific discovery and advocacy in a collaborative community. ATA® is an international professional medical society with over 1,700 members from 70 countries around the world. Celebrating its 96th anniversary, the ATA® delivers its mission — transforming thyroid care through clinical excellence, education, scientific discovery and advocacy in a collaborative community — through several key endeavors:
·      The publication of the highly regarded professional journals Thyroid®, Clinical Thyroidology®, and VideoEndocrinology
·      Annual scientific meetings
·      Biennial clinical and research symposia
·      Research grant programs for young investigators
·      Support of online professional, public, and patient educational programs
·      Development of guidelines for clinical management of thyroid disease and thyroid cancer
The ATA® promotes thyroid awareness and information through its online Clinical Thyroidology® for the Public (distributed free of charge to over 12,000 patients and public subscribers) and extensive, authoritative explanations of thyroid disease and thyroid cancer in both English and Spanish. The ATA® website www.thyroid.org serves as a bonafide clinical resource for patients and the public who look for reliable information on the Internet.