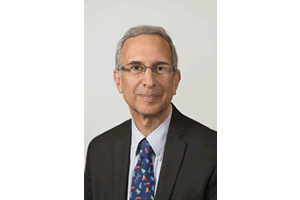 October 31, 2019—The American Thyroid Association (ATA) is pleased to announce that the 2019 Paul Starr Award recipient and lecturer is Dr. Douglas S. Ross Professor of Medicine at Harvard Medical School and Co-Director of Thyroid Associates at Massachusetts General Hospital in Boston, Massachusetts.
The Paul Starr Award is presented to an outstanding contributor to clinical thyroidology. At the ATA Annual Meeting in Chicago, Illinois. Dr. Ross will deliver the Paul Starr Award Lecture titled "Low-Risk Thyroid Cancer. Evidence, Expert Opinion, and Common Sense" at 1:30 pm on October 31, 2019.
Dr. Ross received his undergraduate and master's degree from Massachusetts Institute of Technology. Thereafter, he obtained his MD from Harvard Medical School, and did his internal medicine and endocrine training at Massachusetts General Hospital. He completed his Endocrine Fellowship in 1983 and since then has leveraged his vast clinical experience and huge patient volume to study, write and lecture extensively on a wide range of thyroid-related topics all while being a superior full-time clinician. He has received over 25 awards recognizing professional accomplishments, most of which relate to his excellence as a physician.
ATA past president, Dr. Rebecca Bahn, notes that Dr. Ross's "impact, however, extends well beyond his own patients to benefit patients worldwide. Through his teaching, publications and lectures he has likely contributed to the education of most practicing endocrinologists and certainly every thyroidologist of this generation."
Dr. Ross was the first to publish on the adverse bone consequences of subclinical hyperthyroidism and co-chaired the latest ATA Hyperthyroidism Guidelines (2016). In addition, he participated in the development of the original rhTSH protocols and was MGH co-principal investigator for those trials. As an active member of the National Thyroid Cancer Treatment Co-operative (NTCTC), he co-authored five NTCTC publications, and was first author of the influential micropapillary carcinoma study.
Dr. Ross is the Thyroid Section Editor of UptoDate, Associate Editor of the Thyroid Journal, and an engaged member in professional medical societies.
Over the past three decades Doug Ross has been committed to serving as a world-renowned resource, educator, researcher, colleague and most importantly as a clinician. His dedication to clinical thyroidology and achievement of improving the care of patients worldwide makes him a very worthy recipient for the highly sought after and prestigious 2019 Paul Starr Award.
###
The American Thyroid Association® (ATA) is dedicated to transforming thyroid care through clinical excellence, education, scientific discovery and advocacy in a collaborative community. ATA® is an international professional medical society with over 1,700 members from 70 countries around the world. Celebrating its 96th anniversary, the ATA® delivers its mission — transforming thyroid care through clinical excellence, education, scientific discovery and advocacy in a collaborative community — through several key endeavors:
The publication of the highly regarded professional journals Thyroid®, Clinical Thyroidology®, and VideoEndocrinology
Annual scientific meetings
Biennial clinical and research symposia
Research grant programs for young investigators
Support of online professional, public, and patient educational programs
Development of guidelines for clinical management of thyroid disease and thyroid cancer
The ATA® promotes thyroid awareness and information through its online Clinical Thyroidology® for the Public (distributed free of charge to over 12,000 patients and public subscribers) and extensive, authoritative explanations of thyroid disease and thyroid cancer in both English and Spanish. The ATA® website www.thyroid.org serves as a bonafide clinical resource for patients and the public who look for reliable information on the Internet.