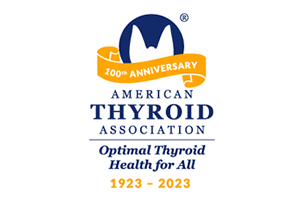 Alexandria, VA, September 1, 2023 — The American Thyroid Association® (ATA®)'s new guidance document, "General principles for the safe performance, training and adoption of ablation techniques for benign thyroid nodules: An American Thyroid Association Statement" is now available online in Thyroid®.
The statement was drafted by a multidisciplinary, global writing task force led by co-chairs Catherine Sinclair, MD, Icahn School of Medicine at Mount Sinai and Monash University, and Jennifer H. Kuo, MD, Section of Endocrine Surgery, Department of Surgery, Columbia University. The document highlights this continually emerging technology, focusing on principles for safe implementation and application to the thyroid field. The final document integrates feedback from the endocrinology, endocrine surgery, otolaryngology and radiology fields and it underwent formal peer-review in Thyroid. Potential author conflict of interest was managed, and transparency maintained in formulating the consensus statement.
"The field of thyroidology is dynamic, with frequent innovation and discovery informed by an ever-evolving knowledge base. It's challenging for clinicians to know how to incorporate novel technologies and techniques into their practices," said Julie Ann Sosa, MD, FACS, ATA President. "This can result in variation in practice, which implies that there can be variation in the quality of care provided. This new American Thyroid Association statement crosses national borders and specialties, establishing best thyroid ablation practices informed by evidence in order to improve patient outcomes."
Thermal and chemical ablation refers to a group of versatile, non-surgical techniques that are used to treat benign thyroid nodules. In North America, chemical ablation techniques have been utilized for decades however thermal techniques have only recently been introduced. Many international case series and consensus statements have been published in the past decade evaluating and summarizing the indications, contra-indications and outcomes of thermal and chemical ablation techniques for benign thyroid nodules. However, there are no documents to date in the United States focusing primarily on the safe adoption and implementation of ablation techniques, including learning curve considerations and necessary pre-procedural skillsets. The objective of this ATA Statement is to provide a framework for the safe adoption and implementation of thermal and chemical ablative technologies for benign thyroid nodules in the United States by i) defining and discussing safety considerations in pre-procedural, peri-procedural and post-procedural settings; ii) recognizing that although these emerging technologies hold promise, they are not without risk and require development of a unique skillset for optimal, safe performance; and iii) defining the training, prior knowledge and steps that should be considered by any physician who desires to incorporate thyroid nodule ablation into their practice.
The consensus statement is globally recognized and is endorsed by the American Academy of Otolaryngology Head and Neck Surgery, American Association of Endocrine Surgeons, American Head and Neck Society, Society of Interventional Radiology (SIR), Latin-American Thyroid Society (LATS), Asia and Oceania Thyroid Association (AOTA), and the Asia Pacific Society of Thyroid Surgery (APTS).
The consensus statement is expected to be a useful reference tool for the global surgical and endocrine communities. The consensus statement does not establish a standard of care and specific outcomes are not guaranteed. Treatment decisions must be made based on the independent judgment of health care providers and each patient's individual circumstances. A consensus statement is not intended to take the place of physician judgment in diagnosing and treatment of particular patients.
About the American Thyroid Association
The American Thyroid Association (ATA) is dedicated to transforming thyroid care through clinical excellence, education, scientific discovery and advocacy in a collaborative and diverse community. ATA is an international professional medical society with over 1,700 members from 43 countries around the world. The ATA promotes thyroid awareness and information through Clinical Thyroidology® for the Public, a resource that summarizes research for patients and families, and extensive, authoritative resources on thyroid disease and thyroid cancer in both English and Spanish. The ATA website  serves as a bonafide clinical resource for patients and the public who look for reliable thyroid-related information.