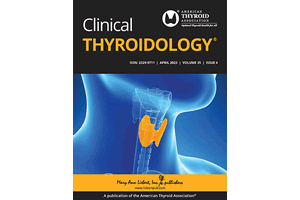 The American Thyroid Association® (ATA®) is pleased to announce that Trevor E. Angell, MD has been selected as the new Editor-in-Chief of the ATA monthly journal Clinical Thyroidology®. Dr. Angell's term as Editor-in-Chief will begin in January 2024. 
Clinical Thyroidology is one of the ATA's official journals and is published in partnership with Mary Ann Liebert, Inc. This highly valued abstract and commentary publication provides a comprehensive look at clinical thyroid literature. Experts in the field summarize the most innovative, relevant articles and provide insight into the relevance and impact of each article on patient care.
'I am delighted that Dr. Angell has agreed to take over the reigns as Editor in Chief of Clinical Thyroidology, following the superb job that Dr. Leung has done. I have every confidence that Dr. Angell will continue the clear upward trajectory of the journal," said Christopher McCabe, American Thyroid Association's Secretary.
Dr. Angell will succeed Angela M. Leung, MD, who is completing a five-year term as Editor-in-Chief of Clinical Thyroidology. Clinical Thyroidology has seen a growth in readership and downloads during Dr. Leung's term and the American Thyroid Association is grateful for her strategic and innovative leadership.
"I am thrilled to have the opportunity to be Editor-in-Chief of Clinical Thyroidology following the exceptional tenure of  Dr. Angela Leung. I plan to continue to work with an outstanding editorial board, contributing expertise and thought-leading commentaries, to create this unique and invaluable publication," said Dr. Angell.
Dr. Angell is an Associate Professor of Clinical Medicine in the Department of Medicine's division of endocrinology and diabetes at Keck School of Medicine of USC. Dr. Angell is board certified in internal medicine and diabetes, endocrinology, and metabolism. His clinical and research interest is the diagnosis and treatment of thyroid diseases. He is nationally recognized for research and clinical expertise in thyroid nodule evaluation and molecular testing of thyroid nodules.
About the Journal
Clinical Thyroidology® monthly expert commentary provides an expansive look at clinical thyroid literature and summarizes the most innovative, relevant articles that clinicians should know about. Complete tables of content may be viewed on the Clinical Thyroidology website.
About the American Thyroid Association
The  American Thyroid Association® (ATA) is dedicated to transforming thyroid care through clinical excellence, education, scientific discovery, and advocacy in a collaborative community. ATA® is an international professional medical society with more than 1,700 members from 70 countries around the world.
The ATA® promotes thyroid awareness and information through its online Clinical Thyroidology® for the Public (distributed free of charge to over 12,000 patients and public subscribers) and extensive, authoritative explanations of thyroid disease and thyroid cancer in both English and Spanish. The ATA® website www.thyroid.org serves as a bonafide clinical resource for patients and the public who look for reliable information on the Internet.
About Mary Ann Liebert
Mary Ann Liebert, Inc., is known for establishing authoritative peer-reviewed journals in many promising areas of science and biomedical research. A complete list of the firm's more than 90 journals, books, and newsmagazines is available on its website.
###