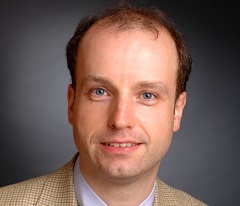 Jochen Lorch
Harvard Medical School, Boston, MA
October 16, 2020
Anaplastic or undifferentiated thyroid cancer is a rare but extremely deadly form of thyroid cancer. It constitutes only 1-2% of thyroid cancer cases but accounts for over 30% of thyroid cancer related mortality. It has, for the longest time, escaped all attempts to change its dismal prognosis – historically having a median survival of 4-6 months and very few, if any, long-term survivors. Progress in anaplastic thyroid cancer has been slow because it is refractory to standard chemotherapies and because of its rarity, which make clinical trials very challenging. It is therefore exciting to see that this is gradually beginning to change, and the standard treatment recommendation for patients with metastatic disease is no longer just hospice care.
A breakthrough happened when molecular diagnostic testing came about for thyroid tumors. A basket trial in BRAF mutant rare cancers (that also happened to include 16 patients with BRAF V600E mutant anaplastic thyroid cancer) showed that patients who have BRAF mutant anaplastic thyroid cancer and were treated with the RAF/MEK inhibitor combination dabrafenib/trametinib had radiographic responses that were durable in many cases beyond one year. [1] This therapy is now an FDA approved treatment option.
Immunotherapy, which promotes the body's own immune defense mechanisms to find and destroy cancerous cells, has revolutionized cancer care and is also beginning to make its mark in anaplastic thyroid cancer treatment. The PD-1 inhibitor, spartalizumab, was associated with a 19% response rate. [2] Nivolumab plus ipilimumab (also PF-1 inhibitors) led to profound radiographic responses in 4/10 patients in a phase 2 study, and some of the responses were durable beyond the intended treatment duration of 2 years. [3]
The proto-oncogene RET is primarily known as a driver mutation in medullary thyroid cancer. Another molecular alteration that can lead to RET activation are RET fusions, which can occur in approximately 15% of all papillary thyroid cancer cases and also likely occur at a similar rate in anaplastic thyroid cancer. The novel RET specific tyrosine kinase inhibitors, selpercatinib and pralsetinib, have been tested in a limited number of cases with anaplastic thyroid cancer. It appears that the disease frequently responds to these drugs but resistance seems to emerge rather quickly in most cases. [4]
Other molecular abnormalities such as activating mutations along the PI3K/mTOR axis are also quite frequent, occurring in approximately 30% of cases and in these cases. The mTOR inhibitor everolimus has shown efficacy although confirmation in larger prospective studies is lacking. [5, 6] .
It is very satisfying to see that finally real treatment options have emerged to help patients with this awful disease.
For Further Reference:
American Thyroid Association Guidelines for Management of Patients with Anaplastic Thyroid Cancer  | by the American Thyroid Association
Note: An UPDATE to ATA's Anaplastic Thyroid Cancer Guidelines is anticipated to be published/available early 2021.
Disclaimer:
The ideas and opinions expressed on the ATA Blogs do not necessarily reflect those of the ATA. None of the information posted is intended as medical, legal, or business advice, or advice about reimbursement for health care services. The mention of any product, service, company, therapy or physician practice does not constitute an endorsement of any kind by ATA. ATA assumes no responsibility for any injury or damage to persons or property arising out of or related to any use of the material contained in, posted on, or linked to this site, or any errors or omissions.
References:
1. Subbiah, V., et al., Dabrafenib and Trametinib Treatment in Patients With Locally Advanced or Metastatic BRAF V600-Mutant Anaplastic Thyroid Cancer. J Clin Oncol, 2018. 36(1): p. 7-13.
2. Capdevila, J., et al., PD-1 Blockade in Anaplastic Thyroid Carcinoma. J Clin Oncol, 2020: p. JCO1902727.
3. Lorch, J.H., et al., A phase II study of nivolumab (N) plus ipilimumab (I) in radioidine refractory differentiated thyroid cancer (RAIR DTC) with exploratory cohorts in anaplastic (ATC) and medullary thyroid cancer (MTC). Journal of Clinical Oncology, 2020. 38(15_suppl): p. 6513-6513.
4. Subbiah, V., et al., Clinical activity of the RET inhibitor pralsetinib (BLU-667) in patients with RET fusion+ solid tumors. Journal of Clinical Oncology, 2020. 38(15_suppl): p. 109-109.
5. Wagle, N., et al., Response and acquired resistance to everolimus in anaplastic thyroid cancer. N Engl J Med, 2014. 371(15): p. 1426-33.
6. Harris, E.J., et al., Everolimus in Anaplastic Thyroid Cancer: A Case Series. Front Oncol, 2019. 9: p. 106.