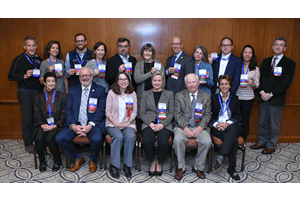 Dr. Martha Zeiger, President, and Dr. Jacqueline Jonklaas, Secretary/COO to Lead 2019-2020 Board of Directors
For the first time in its 96-year history, the American Thyroid Association (ATA) will be majority led by a president, secretary/COO, treasurer, and past-president who are women.  The ATA, headquartered in Falls Church, VA, announces with pleasure that Martha Zeiger, MD, began a one-year term as president of the Board of Directors and Jacqueline Jonklaas, MD, started her 4-year term as Secretary/Chief Operating Officer at the close of the 89th Annual Meeting, November 3 in Chicago, Illinois.  Treasurer, Julie Ann Sosa, MD, and Past President, Elizabeth Pearce, MD, continue as officers of the ATA.  The newly elected president-elect, Victor Bernet, MD, has just completed a four-year term as Secretary/COO.  Three new directors join the 15 member Board as well: Drs. Naifa Lamki Busaidy, Antonio Di Cristofano, Scott A. Rivkees.  Congratulations all!
Martha Zeiger, MD, President
Dr. Martha A. Zeiger is the Director of Surgical Oncology at the National Cancer Institute, National Institutes of Health. Regarded as a world leader in endocrine surgery, she is also an expert in the molecular aspects of thyroid cancer and an experienced academic leader. Prior to joining the NCI Dr. Zeiger was the S. Hurt Watts Professor and Chair of Surgery at the University of Virginia.
Her surgical training includes a surgical oncology fellowship, focused on endocrine surgery, at the National Cancer Institute, NIH, prior to joining the faculty at Johns Hopkins University School of Medicine in 1993. There, she built her endocrine surgery practice, established an endocrine surgery fellowship program, and directed an NIH-funded molecular biology laboratory for over 20 years. Today, her research team continues at Johns Hopkins, focusing on the molecular aspects of thyroid cancer.
While at John Hopkins, Dr. Zeiger took the lead as: associate dean for postdoctoral affairs; professor of surgery, oncology, cellular and molecular medicine; associate vice chair of surgery faculty development; and medical director of business development, strategic alliance, and venture technology. While associate dean for postdoctoral affairs, she oversaw 1,200 research fellows in the School of Medicine.
Dr. Zeiger has held numerous leadership positions in national medical societies: the American Association of Endocrine Surgeons, the American Association of Clinical Endocrinologists, and the ATA. Through AAES, she founded Endocrine Surgery University, an annual course for all endocrine surgery fellows in North America.
She has served as president-elect for this past year and previously on the ATA Board of Directors and many ATA committees, including publications, membership, conflict of interest task force.  She also co-chaired the annual meeting program committee in 2011.
Jacqueline Jonklaas, MD, Secretary/COO
Dr. Jonklaas is currently a professor in the endocrinology division at Georgetown University in Washington, DC, where she completed her medical degree, residency, and fellowship training. As a clinical researcher in the thyroid field, her time is divided between research, clinical activities, and teaching. Dr. Jonklaas's research has focused on the management of hypothyroidism and thyroid cancer. Current research involves examining patient-reported outcomes after radioiodine therapy. Her recent publications address topics such as how to optimize the treatment of hypothyroidism and the outcomes of thyroid cancer patients based on their treatment, age, and gender.
She is the program director of the Georgetown University Clinical Research Unit. She is involved in translational research and the activities of the Georgetown University's Clinical and Translational Science Award. She recently directed the endocrinology courses for Georgetown University Medical School's first- and second-year medical students. She currently teaches first year medical students.
She serves on the editorial board of the Journal of Clinical Endocrinology and Metabolism. She is involved in teaching at the national level as a past member of the Endocrine Society Self-Assessment Committee and a current member of the Endocrine Board Review faculty.
Dr. Jonklaas has been a member of the ATA since 1999. She has served on several past ATA committees, including the Patient Education and Advocacy Committee, the Surgical Task Force Committee, and the Awards Committee. She was cochair of the ATA Task Force on Thyroid Hormone Replacement, whose guidelines were published in 2014. She previously served on the Board of Directors from 2013–2017, and recently completed a term as the co-chair of the Guidelines and Statement Committee. Currently she serves on the Program Committee. She also serves on the editorial board of the ATA journal Thyroid.
She has served as Secretary-elect for the past year and a full term on the Board of Directors previously.
ATA Board of Directors –newly elected 2019
Scott A. Rivkees MD is Professor of Pediatric Endocrinology at the University of Florida. Dr. Rivkees is a graduate of Rutgers University and Medical School. He is a member of American Society for Clinical Investigation, the Connecticut Academy of Science, and Fellow of the American Academy for the Advancement of Science. He authored more than 300 articles, including original reports, chapters, editorials and books. His recent research activities include studies of potential teratogenic effects of anti-thyroid medications, risks of radioactive iodine therapy in children, and influences of altered prenatal thyroid hormone levels on adult neural function. He is also working on novel approaches for the treatment of Graves' disease and thyroid cancer.  He played a role in ATA guideline development committees, including the ATA Hyperthyroidism Task Force.  He is responsible for the safety alert about liver toxicity of the antithyroid drug propylthiouracil that led to major international treatment practice changes. He received the American Thyroid Association Paul Starr Distinguished Lectureship Award in 2018.
Antonio Di Cristofano is a Tenured Professor of Developmental and Molecular Biology at the Albert Einstein College of Medicine (Bronx, NY). His general area of expertise is cancer biology and signaling. He received his PhD in Cellular and Molecular Genetics from the University of Naples, in Italy, working on mechanisms of transcriptional regulation of human endogenous retroviruses. Dr. Di Cristofano's interests span basic and preclinical thyroid cancer research. His current research focuses on the identification of the genetic and signaling alterations associated in vivo with thyroid cancer progression and resistance to targeted therapy, and on the development of pro-apoptotic therapies for advanced thyroid cancer.  Dr. Di Cristofano is a rostered member of the NIH Molecular and Cellular Endocrinology Study Section, and serves as an Associate Editor of Endocrine-Related Cancer.  A member of the American Thyroid Association since 2008, and the recipient of the 2012 Van Meter Award, he chaired the Research Committee, serves on the Anaplastic Thyroid Cancer Guidelines Task Force, and is the co-chair of the Program Committee of the 2019 ATA Annual Meeting.
Naifa Busaidy is a Tenured Associate Professor in the Department of Endocrine Neoplasia & Hormonal Disorders at the University of Texas – MD Anderson Cancer Center. Her clinical expertise and research interests are primarily focus driven to treat and improve outcomes in patients with aggressive thyroid carcinomas.  There, she also directs the thyroid nodule clinic where patients with the spectrum of the disease are seen from initial visit to diagnosis on the same day with results.  She serves as Principal Investigator and Co-Investigator of both National Cancer Institute sponsored and industry sponsored trials.  She serves on the National Comprehensive Cancer Network (NCCN) Thyroid Cancer Guidelines Committee. Dr. Busaidy's service to the American Thyroid Association includes the program committee, research grant committee and the awards committee. She is a member of the International Thyroid Oncology Group Board, AACE, Endocrine Society and several societies where she enjoys serving on multiple committees including mentorship and research committees. She has published extensively on Endocrine tumors, specifically thyroid cancer and Endocrine effects of cancer therapy.
Victor Bernet, MD, is Chair of the Endocrinology Division at Mayo Clinic in Jacksonville, Florida and is an Associate Professor, Mayo Clinic College of Medicine.  Dr. Bernet served 21+ years in the Army Medical Corps retiring as a Colonel. His research interests include management of thyroid nodules and cancer as well as identifying surreptitious thyroid hormone content within supplements.  Dr. Bernet first ATA activity was the Fellows' Workshop at the 1993 annual meeting. His ATA service includes being a member and later Chair of the Public Health Committee, Chair of ATA Internet and Communications Committee and was involved in the launch of the calcitonin and thyroid nodule volume calculators. As a member of the ATA Fellows' Task Force, he participated in the development of the Fellows' Corner for trainees. In 2010, he joined the ATA Board of Directors and was later selected to be Secretary/Chief Operating Office in October 2015. He is a member of the International Thyroid Oncology Group and served as Endocrine Society representative to the Association of Specialty Professors (2006-2010). He is active as a reviewer for several journals including Thyroid.
Appreciation
The ATA would like to recognize all dedicated members who are willing to run for election and thanks this year's Nominating Committee, chaired by Susan Sherman.  Special thanks go to those who will retire from the Board this year: Andrew Bauer, MD, Sally Carty, MD, Rebecca Schweppe, PhD, and outgoing Past-President Charles Emerson, MD.
###
The American Thyroid Association® (ATA) is devoted to transforming thyroid care through clinical excellence, education, scientific discovery and advocacy in a collaborative community. ATA® is an international professional medical society with over 1,700 members from 70 countries around the world. Celebrating its 96th anniversary, the ATA® delivers its mission — transforming thyroid care through clinical excellence, education, scientific discovery and advocacy in a collaborative community — through several key endeavors:
The publication of the highly regarded professional journals Thyroid®, Clinical Thyroidology®, and VideoEndocrinology
Annual scientific meetings
Biennial clinical and research symposia
Research grant programs for young investigators
Support of online professional, public, and patient educational programs
Development of guidelines for clinical management of thyroid disease and thyroid cancer
The ATA® promotes thyroid awareness and information through its online Clinical Thyroidology® for the Public (distributed free of charge to over 12,000 patients and public subscribers) and extensive, authoritative explanations of thyroid disease and thyroid cancer in both English and Spanish. The ATA® website www.thyroid.org serves as a bonafide clinical resource for patients and the public who look for reliable information on the Internet.