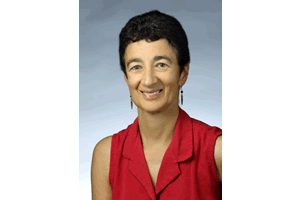 The American Thyroid Association (ATA) is pleased to announce that the 2020 Distinguished Service Award recipient is Dr. Jacqueline Jonklaas, a professor in the endocrinology division at Georgetown University. Dr. Jonklaas is the Director of the Georgetown University Clinical Research Unit and is involved in the activities of Georgetown's Clinical and Translational Science Award.
The Distinguished Service Award honors a member who has made important and continuing contributions to the ATA. The award was presented to Dr. Jonklaas during ATA's first ever virtual Annual Business Meeting on Saturday, September 12, 2020, from 12:00 p.m. to 2:00 p.m.
Dr. Jonklaas is a longtime member of the Georgetown University community, having completed her medical degree, residency, and fellowship training there. She divides her time equally among research, clinical activities, and teaching. Her particular research area of interest is the management of thyroid cancer and hypothyroidism. She has published several papers, book chapters, and expert reviews on thyroid cancer prognosis and treatment outcomes, thyroid hormone measurements, and thyroid hormone treatment, and she has served as the lead author on the ATA's 2014 guidelines for the treatment of hypothyroidism. Dr. Jonklaas also teaches at both a national and a local level, teaching endocrinology to medical students as well as to residents and fellows in the inpatient and outpatient settings.
A member of ATA since 1999, Dr. Jonklaas serves on the editorial board of the journal Thyroid and on ATA's Board of Directors, and she is currently the Secretary and Chief Operating Officer of the Association. She has also served as Co-Chair of the ATA Task Force on Thyroid Hormone Replacement and as Co-Chair of the ATA Guidelines and Statements Task Force. Dr. Jonklaas is also a member of the Endocrine Society, the Endocrine Board Review Faculty, and the editorial board for the Journal of Clinical Endocrinology and Metabolism.
Dr. Jonklaas is a leader in the field of thyroidology and has inspired many to become active in the ATA. Her tremendous contributions to clinical thyroidology and the Association make her a worthy recipient of the highly sought-after and prestigious Distinguished Service Award.
###
The American Thyroid Association® (ATA) is dedicated to transforming thyroid care through clinical excellence, education, scientific discovery and advocacy in a collaborative community. ATA® is an international professional medical society with over 1,700 members from 70 countries around the world. Celebrating its 96th anniversary, the ATA® delivers its mission — transforming thyroid care through clinical excellence, education, scientific discovery and advocacy in a collaborative community — through several key endeavors:
The publication of the highly regarded professional journals Thyroid®, Clinical Thyroidology®, and VideoEndocrinology
Annual scientific meetings
Biennial clinical and research symposia
Research grant programs for young investigators
Support of online professional, public, and patient educational programs
Development of guidelines for clinical management of thyroid disease and thyroid cancer
The ATA® promotes thyroid awareness and information through its online Clinical Thyroidology® for the Public (distributed free of charge to over 12,000 patients and public subscribers) and extensive, authoritative explanations of thyroid disease and thyroid cancer in both English and Spanish. The ATA® website www.thyroid.org serves as a bonafide clinical resource for patients and the public who look for reliable information on the Internet.