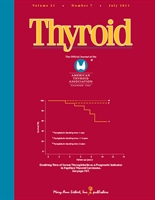 New Rochelle, NY, July 25, 2011—Emerging data clarifying the risks of insufficient thyroid activity during pregnancy on the health of the mother and fetus, and on the future intellectual development of the child, have led to new clinical guidelines for diagnosing and managing thyroid disease during this critical period. The guidelines, developed by an American Thyroid Association (ATA) expert task force, are presented in Thyroid, a peer-reviewed journal published by Mary Ann Liebert, Inc. and are available free online.
Clinical studies are producing critical data demonstrating the harmful effects not only of overt hypothyroidism and hyperthyroidism on pregnancy, but also of subclinical thyroid disease and maternal and fetal health. Ongoing research is clarifying the link between miscarriage and preterm delivery in women with normal thyroid function who are thyroid peroxidase antibody positive. Studies are also uncovering the long-term effects of postpartum thyroiditis.
"Pregnancy has a profound impact on the thyroid gland and thyroid function… In essence, pregnancy is a stress test for the thyroid, resulting in hypothyroidism in women with limited thyroidal reserve or iodine deficiency," state Alex Stagnaro-Green, George Washington University School of Medicine and Health Sciences (Washington, DC), and coauthors representing the ATA task force.
Among the many specific recommendations detailed in the guidelines are the following: women with overt hypothyroidism or with subclinical hypothyroidism who are TPO antibody positive should be treated with oral levothyroxine; use of other thyroid preparations such as triiodothyronine or desiccated thyroid to treat maternal hypothyroidism is strongly recommended against; and women with subclinical hypothyroidism in pregnancy who are not initially treated should be monitored for progression to overt hypothyroidism with serum TSH and free T4 measurements about every 4 weeks until 16-20 weeks gestation and at least once between 26-32 weeks gestation.
The new clinical guidelines focus on several key areas in the diagnosis and management of thyroid disease during pregnancy and postpartum: thyroid function tests, hypothyroidism, thyrotoxicosis, iodine, thyroid antibodies and miscarriage/preterm delivery, thyroid nodules and cancer, postpartum thyroiditis, recommendations on screening for thyroid disease during pregnancy, and areas for future research.
"These important guidelines were developed by a panel of international experts representing the disciplines of endocrinology, obstetrics and gynecology, and nurse midwives. This broad representation of providers that care for pregnant women will significantly increase the impact of these guidelines and translation of findings from the most recent research to clinical practice," says Gregory A. Brent, MD, Professor of Medicine and Physiology, David Geffen School of Medicine at the University of California Los Angeles and President of the ATA.
"Thyroid disease in pregnancy is common, clinically important, and time-sensitive, and our knowledge about it is rapidly changing. This ATA Guideline will disseminate this new information both widely and rapidly to improve patient care, establish what we believe is optimal care for the pregnant woman and her unborn child, and drive future research to further improve our understanding and patient outcomes," says Richard T. Kloos, MD,Professor, The Ohio State University and Secretary/Chief Operating Officer of the ATA.
Thyroid, the Official Journal of the American Thyroid Association is an authoritative peer-reviewed journal published monthly in print and online. The Journal publishes original articles and timely reviews that reflect the rapidly advancing changes in our understanding of thyroid physiology and pathology, from the molecular biology of the cell to clinical management of thyroid disorders. Complete tables of content and a free sample issue may be viewed online.
The American Thyroid Association (ATA) is the leading worldwide organization dedicated to the advancement, understanding, prevention, diagnosis, and treatment of thyroid disorders and thyroid cancer. ATA is an international membership medical society with over 1,400 members from 43 countries around the world. Celebrating its 88th anniversary, ATA delivers its mission through several key endeavors: the publication of highly regarded monthly journals, THYROID, Clinical Thyroidology and Clinical Thyroidology for Patients; annual scientific meetings; biennial clinical and research symposia; research grant programs for young investigators, support of online professional, public and patient educational programs; and the development of guidelines for clinical management of thyroid disease. The ATA has extensive online information at their website on thyroid disease for patients in both English and Spanish and serves as the clinical resource for patients and the public who look for reliable information on the Internet.
Mary Ann Liebert, Inc. is a privately held, fully integrated media company known for establishing authoritative peer-reviewed journals in many promising areas of science and biomedical research, including Diabetes Technology & Therapeutics, Journal of Women's Health, and Metabolic Syndrome and Related Disorders. Its biotechnology trade magazine, Genetic Engineering & Biotechnology News (GEN), was the first in its field and is today the industry's most widely read publication worldwide. A complete list of the firm's 60 journals, books, and newsmagazines is available at our website.