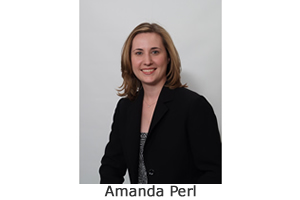 NEW EXECUTIVE DIRECTOR ANNOUNCED FOR THE
AMERICAN THYROID ASSOCIATION
The American Thyroid Association® (ATA®) proudly announces the appointment of Amanda Perl as the organization's new Executive Director, beginning May 11, 2020. She will succeed Bobbi Smith, who is retiring after 24 years of dedicated and transformative leadership for the ATA. Perl and Smith will work together to transition responsibilities and management of the excellent ATA staff.
"A sincere thanks to the selection committee, led by John Morris, for selecting a superb new executive director for the ATA," said ATA President Martha Zeiger. "I have no doubt that Amanda Perl, building on the ATA's strong foundation created by Bobbi Smith, will bring the ATA to a whole new level in the world of medical societies."
Ms. Perl brings more than 20 years of experience in association leadership, with expertise in educational program development, strategic planning, governance training, and international program development. She is currently the Chief Global Member Engagement Officer at the Endocrine Society, where she has led the creation of the Society's first Special Interest Groups to increase member engagement and value.
In her time with the Endocrine Society, Ms. Perl has also expanded leadership and governance training programs, particularly by launching the award-winning Global Leadership Academy, and built partnerships with other global organizations focused on endocrine health.
Before joining the Endocrine Society, Ms. Perl spent nine years with the Institute of Food Technologists, where she launched the Certified Food Scientist certification program and led fundraising initiatives for the IFT Foundation.
"I am excited to join the ATA team," Perl said. "ATA has a strong foundation and rich history, and I look forward to working with the ATA leadership and staff to move the organization forward."
"An ATA executive director search task force selected Perl from a large pool of highly talented and experienced individuals", said ATA Secretary/COO Jacqueline Jonklaas. "We believe that she will be instrumental in the achievement of ATA's mission and goals".
###
About ATA
The American Thyroid Association® (ATA®) is devoted to transforming thyroid care through clinical excellence, education, scientific discovery, and advocacy in a collaborative community. ATA is an international professional medical society with more than 1,700 members from 70 countries around the world. Celebrating its 97th anniversary, the ATA delivers its mission through key endeavors, including:
The highly regarded professional journals Thyroid®, Clinical Thyroidology®, and VideoEndocrinology
Annual ATA scientific meetings
Biennial clinical and research symposia
Research grant programs for young investigators
Support of online professional, public, and patient educational programs
Development of guidelines for clinical management of thyroid disease and thyroid cancer
The ATA promotes thyroid awareness and information through its online Clinical Thyroidology® for the Public (distributed free of charge to more than 12,000 patients and public subscribers) and extensive, authoritative explanations of thyroid disease and thyroid cancer in both English and Spanish. The ATA website www.thyroid.org serves as a bona fide clinical resource for patients and the public who look for reliable information on the Internet.