88th Annual Meeting of the American Thyroid Association
October 3-7, 2018
Marriott Marquis
Washington, DC
Thank you to those who attended the 88th Annual Meeting of the ATA.
ATA is pleased to announce record attendance at the 2018 meeting with over 1,600 attendees. Washington, DC offered an amazing venue and location for attendees to network and develop professionally. ATA looks forward to continued success and growth in the coming years. ATA appreciates the efforts of our meeting faculty, exhibitors, sponsors and sponsors for their support and contributions to the ATA Annual Meeting.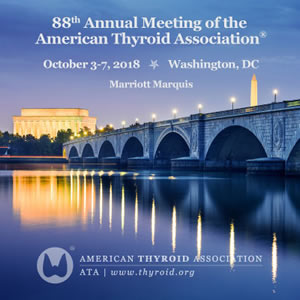 Meeting Agendas
88th Annual Meeting of the ATA Full Scientific Program – Wednesday, October 3 – Sunday, October 7, 2018
E. Chester Ridgway Trainee Conference Agenda
ATA Endocrine Neck Advanced Ultrasound Course
Latin American International Satellite Symposium
ATA Pediatric Thyroid Forum Satellite Program – Update on Pediatric Thyroid Disease 2018: Current State and Future Directions
1st Annual ATA Advanced Practice Provider (APP) Satellite Symposium: Highlighting a Team Approach for the Care of Patients with Thyroid Disease
Advancing Precision Medicine—Bridging Biomarker Research and Clinical Practice: ATA Expo Theater Presented by Bayerand LOXO Oncology