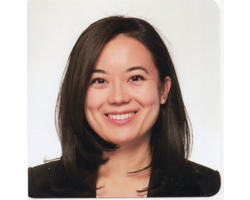 Stephanie Behringer-Massera, MD

Icahn School of Medicine at Mount Sinai
New York, NY

Bio
The American Thyroid Association has awarded a 2018 Research Grant to Stephanie Behringer-Massera, MD, Clinical Fellow at the Icahn School of Medicine at Mount Sinai. Dr. Behringer-Massera's project is titled "T regulatory cells in thyroid-antibody-positive pregnant women."
A fetus, which shares half its genetic material with the father, is considered a foreign body in the mother's womb. The only way that it can implant in the uterus without being rejected is if the mother's immune system is suppressed, which happens through T-regulatory-cell action. The more T regulatory cells (Tregs) are released, the more the immune system is suppressed and the more likely the pregnancy can successfully be brought to term. In women with autoimmune thyroid disease, this process is disrupted. These women are found to have an abnormal Treg response to pregnancy and have Treg levels as low as women who are not pregnant. They are more likely to have miscarriages in the first trimester.
Through this project, Dr. Behringer-Massera hopes to understand the underlying pathology in this immune response to the fetus, enabling the development of targeted therapies to prevent these miscarriages. She plans to measure the proportion of Tregs in pregnant women during each trimester and in those who are 6-weeks postpartum, comparing the proportions in thyroid-antibody-positive versus thyroid-antibody-negative women, as well as in a control group of normal nonpregnant women. Her laboratory will also examine the functional status of Treg cells in both normal and thyroid-antibody positive women during pregnancy to determine their effectiveness at immune control. They will also analyze the Treg cells isolated from the control group and from the antibody-positive women to evaluate clonal expansion during and after pregnancy.
Dr. Behringer-Massera's previous studies of patients with increased thyroid autoantibodies during the first trimester of pregnancy demonstrated the increased rate of miscarriage and led to her proposed further studies.
Dr. Behringer-Massera completed her medical studies at the University of Heidelberg in Germany in December 2009. She continued her medical training as a resident in Internal Medicine at the St. Josef Hospital in Heidelberg. In 2011 she was accepted for a residency in Internal Medicine at Montefiore Medical Center, Bronx, New York. She successfully completed her Internal Medicine training in 2014 and was awarded a research fellowship in the Empire Clinical Research Investigator Program (ECRIP) at the Albert Einstein College of Medicine, where she joined a multi-center clinical trial on glycemia-reduction approaches in diabetes (GRADE) funded by the NIH. During this time she also conducted a qualitative study on barriers to enrollment into research studies. In 2016 she started training as a Clinical Fellow in Endocrinology at the Mount Sinai Hospital in New York. When she completes her fellowship in June 2018, she will begin a position as Assistant Professor at the Icahn School of Medicine at Mount Sinai with clinical duties at Mount Sinai Beth Israel Medical Center.
Dr. Antonio Di Cristofano, Chair, ATA Research Committee, says, "The ATA research grant program represents a unique and invaluable mechanism to foster the development of a new generation of basic, translational, and clinical researchers. Through this program, we allow these outstanding young scientists to test innovative hypotheses and generate preliminary data that will give them a significant competitive advantage when applying for traditional NIH-type funding.
This year we received 63 applications from 18 countries, spanning the whole spectrum of thyroid-related research. While, through a rigorous process, we have selected the most promising projects for funding, at the same time we regret we had to leave behind a number of excellent proposals. We are extremely thankful for the support we receive from members and organizations, including thyroid cancer survivors, which makes this outstanding program possible and allows the ATA to nurture the next generation of leaders in thyroidology."
The American Thyroid Association (ATA) has awarded 99 thyroid research grants totaling over $2.8 million since the inception of the Research Fund. In addition, the ATA rigorously manages the selection of research projects and the distribution of over $1.8 million generously donated to the ATA specifically for research grants from: ThyCa, the Thyroid Cancer Survivors' Association, Inc.; Bite Me Cancer; and the Thyroid Head and Neck Cancer Foundation.
The Thyroid Cancer Survivors' Association, Inc. (ThyCa), has provided funding since 2003 in support of 72.5 special research grants totaling $2,084,375 focused on thyroid cancer and medullary thyroid cancer. In 2018 ThyCa is supporting half of a new medullary thyroid cancer grant with Bite Me Cancer, two new thyroid cancer research grants, and four renewing grants. ThyCa is a member of the ATA Alliance for Patient Education. Find out more at www.thyca.org.
Bite Me Cancer (BMC) is our newest grant funder, supporting 8.5 thyroid cancer grants since 2014 for a total of $201,250. BMC will be supporting a half of a new medullary thyroid cancer grant in 2018 with ThyCa and one renewing thyroid cancer grant. BMC is a member of the ATA Alliance for Patient Education. Find out more at www.bitemecancer.org.
###
The American Thyroid Association (ATA) is the leading worldwide organization dedicated to the advancement, understanding, prevention, diagnosis, and treatment of thyroid disorders and thyroid cancer. ATA is an international, individual membership organization for over 1,700 clinicians and researchers from 43 countries around the world, representing a broad diversity of medical disciplines. It also serves the public, patients, and their families through education and awareness efforts.
Celebrating its 95th anniversary, ATA delivers its mission through several key endeavors: the publication of highly regarded monthly journals, Thyroid®, Clinical Thyroidology®, VideoEndocrinology, and Clinical Thyroidology for the Public; annual scientific meetings; biennial clinical and research symposia; research grant programs for young investigators; support of online professional, public, and patient educational programs; and the development of guidelines for clinical management of thyroid disease.
Find out more about ATA at www.thyroid.org.