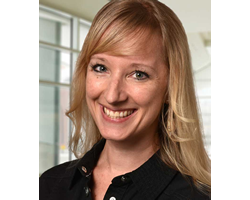 Ann-Kathrin Eisfeld, M.D.

The Ohio State University
Columbus, OH

Bio
The American Thyroid Association has awarded a 2018 Research Grant to Ann-Kathrin Eisfeld, MD, Clinical Fellow in Internal Medicine at Ohio State University. The topic of Dr. Eisfeld's project is "Novel NRAS isoform mediates BRAF-inhibitor resistance in papillary thyroid cancer—thinking outside the box to overcome 'inevitable' treatment failure."
Papillary thyroid cancer (PTC) is one of the 10 most common malignancies in the United States, with almost 60,000 new people diagnosed each year. While almost all patients initially respond well to the current standard treatment with radioactive iodine, almost half of them will eventually develop resistance. Therapies that can provide additional treatment options for those patients are greatly needed.
The BRAF oncogene is the BRAF gene mutated from its natural state, which may contribute to tumor growth. Because about 60% of PTC patients harbor the BRAF oncogene, targeted treatment with a BRAF inhibitor seemed to be a promising treatment option for these patients. The BRAFV600E-inhibitor Vemurafenib was initially effective in many patients, but eventually all patients developed resistance. It seems apparent that resistance and escape mechanisms exist that prevent complete response to selective BRAF inhibitors. Several resistance mechanisms have already been identified, including increased expression of BRAF's upstream regulator, RAS. Eisfeld's laboratory recently pioneered the discovery of five splice variants of the NRAS gene, among which NRAS isoform 2 appears likely to facilitate resistance to Vemurafenib.
In this project, the laboratory will perform comprehensive in vitro and in vivo studies in mice to:
Understand whether and how NRAS isoform 2 contributes to the development of resistance to Vemurafenib
Understand the pathobiology of the new isoform of this major human oncogene
They will use a range of methods including gene splicing, RNA sequencing, and mass spectrometry, among others.
This novel approach may eventually lead to new treatment options for PTC patients who develop resistance to the current standard therapy.
Dr. Eisfeld grew up in Northern Germany watching her father practice medicine and wanting to do the same. However, she did not discover her passion for research until attending medical school at the University of Leipzig, Germany, and realized the power that translational genetics has on cancer treatment. There she began research projects that eventually led to a hematology residency/fellowship in Leipzig. Her passion for genetics led her to pause her fellowship in 2009 to take a research position in Albert de la Chapelle's and Clara D. Bloomfield's Laboratories at The Ohio State University. Together they undertook studies focused on genetics in acute myeloid leukemia and solid tumors, for which Dr. Eisfeld assumed a senior role. In 2016 she resumed her clinical training in the OSU Physician-Scientist-Training Program, so she could maintain a research lab. She plans to finish her clinical training and finally unite her two passions—research and patient care—as a Physician Scientist.
Dr. Antonio Di Cristofano, Chair, ATA Research Committee, says, "The ATA research grant program represents a unique and invaluable mechanism to foster the development of a new generation of basic, translational, and clinical researchers. Through this program, we allow these outstanding young scientists to test innovative hypotheses and generate preliminary data that will give them a significant competitive advantage when applying for traditional NIH-type funding.
This year we received 63 applications from 18 countries, spanning the whole spectrum of thyroid-related research. While, through a rigorous process, we have selected the most promising projects for funding, at the same time we regret we had to leave behind a number of excellent proposals. We are extremely thankful for the support we receive from members and organizations, including thyroid cancer survivors, which makes this outstanding program possible and allows the ATA to nurture the next generation of leaders in thyroidology."
The American Thyroid Association (ATA) has awarded 99 thyroid research grants totaling over $2.8 million since the inception of the Research Fund. In addition, the ATA rigorously manages the selection of research projects and the distribution of over $1.8 million generously donated to the ATA specifically for research grants from: ThyCa, the Thyroid Cancer Survivors' Association, Inc.; Bite Me Cancer; and the Thyroid Head and Neck Cancer Foundation.
The Thyroid Cancer Survivors' Association, Inc. (ThyCa), has provided funding since 2003 in support of 72.5 special research grants totaling $2,084,375 focused on thyroid cancer and medullary thyroid cancer. In 2018 ThyCa is supporting half of a new medullary thyroid cancer grant with Bite Me Cancer, two new thyroid cancer research grants, and four renewing grants. ThyCa is a member of the ATA Alliance for Patient Education. Find out more at www.thyca.org.
Bite Me Cancer (BMC) is our newest grant funder, supporting 8.5 thyroid cancer grants since 2014 for a total of $201,250. BMC will be supporting a half of a new medullary thyroid cancer grant in 2018 with ThyCa and one renewing thyroid cancer grant. BMC is a member of the ATA Alliance for Patient Education. Find out more at www.bitemecancer.org.
###
The American Thyroid Association (ATA) is the leading worldwide organization dedicated to the advancement, understanding, prevention, diagnosis, and treatment of thyroid disorders and thyroid cancer. ATA is an international, individual membership organization for over 1,700 clinicians and researchers from 43 countries around the world, representing a broad diversity of medical disciplines. It also serves the public, patients, and their families through education and awareness efforts.
Celebrating its 95th anniversary, ATA delivers its mission through several key endeavors: the publication of highly regarded monthly journals, Thyroid®, Clinical Thyroidology®, VideoEndocrinology, and Clinical Thyroidology for the Public; annual scientific meetings; biennial clinical and research symposia; research grant programs for young investigators; support of online professional, public, and patient educational programs; and the development of guidelines for clinical management of thyroid disease.
Find out more about ATA at www.thyroid.org.