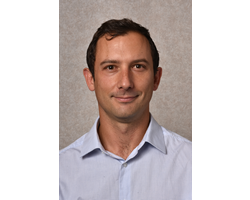 Wayne Miles, Ph.D.

The Ohio State University
Columbus, OH

Bio
The American Thyroid Association has awarded a 2018 Research Grant to Wayne Miles, PhD, Assistant Professor of Molecular Genetics at the Ohio State University. Dr. Miles's research project is entitled "Proteomic-led discovery of essential genes in Medullary Thyroid Cancer."
Medullary thyroid cancer (MTC) is caused by the malignant growth of C-cells. Although MTC represents only a small fraction (2­-4%) of all thyroid cancer cases and overall survival rates from MTC are good, patients diagnosed with advanced disease have poor five-year survival rates (28%). The genetic aberrations of the cancer result in C-cells receiving a continuous signal to grow and proliferate. To sustain their elevated growth rates, MTC cells adapt their genome (DNA), transcriptome (RNA), and proteome (the entire set of proteins expressed by a cell, tissue, or organism).
Dr. Miles's laboratory has specialized in profiling the protein changes in human MTC cancer cell lines, revealing many exciting and potentially exploitable changes within these cells. However, before they begin to translate these specific MTC cell-line changes into new strategies to treat human MTC, they first need to determine: (1) whether these changes are also seen in preclinical mouse models of MTC and (2) which of the protein changes are essential for the survival of human MTC cells.
Using quantitative proteomics, they will measure the protein composition of mouse MTC tumors and normal mouse thyroids. With Clustered Regularly Interspaced Short Palindromic Repeats (CRISPR), a genome editing technology, they will then conduct a genome-wide screen to determine the genes responsible for the survival and growth of MTC and C-cells. This unbiased methodology systematically disables one gene per cell and enables the identification of essential genes. With this approach, the project will profile a C-cell line and two human MTC cancer cell lines. Collectively, these results will generate new insights into MTC biology and uncover opportunities to therapeutically target MTC cells.
Dr. Miles's research has long focused on understanding how loss of the Retinoblastoma 1 or RB tumor-suppressor gene contributes to cancer growth. His laboratory's previous work has found that RB loss results in widespread cellular reprogramming that effects not only transcription but also metabolism and the proteome. These discoveries were made possible by utilizing cutting-edge quantitative proteomic approaches and these past projects have been excellent training for the upcoming project. More recently, their research has expanded to investigate the roles of RB-inactivation in Medullary Thyroid Cancer.
Wayne Miles received his PhD in 2008 from the University of Manchester (UK), and pursued postdoctoral work the following year at Harvard Medical School and the Massachusetts General Hospital Cancer Center. In 2016 he was appointed Assistant Professor at The James Comprehensive Cancer Center, Ohio State University.
Dr. Antonio Di Cristofano, Chair, ATA Research Committee, says, "The ATA research grant program represents a unique and invaluable mechanism to foster the development of a new generation of basic, translational, and clinical researchers. Through this program, we allow these outstanding young scientists to test innovative hypotheses and generate preliminary data that will give them a significant competitive advantage when applying for traditional NIH-type funding.
This year we received 63 applications from 18 countries, spanning the whole spectrum of thyroid-related research. While, through a rigorous process, we have selected the most promising projects for funding, at the same time we regret we had to leave behind a number of excellent proposals. We are extremely thankful for the support we receive from members and organizations, including thyroid cancer survivors, which makes this outstanding program possible and allows the ATA to nurture the next generation of leaders in thyroidology."
The American Thyroid Association (ATA) has awarded 99 thyroid research grants totaling over $2.8 million since the inception of the Research Fund. In addition, the ATA rigorously manages the selection of research projects and the distribution of over $1.8 million generously donated to the ATA specifically for research grants from: ThyCa, the Thyroid Cancer Survivors' Association, Inc.; Bite Me Cancer; and the Thyroid Head and Neck Cancer Foundation.
The Thyroid Cancer Survivors' Association, Inc. (ThyCa), has provided funding since 2003 in support of 72.5 special research grants totaling $2,084,375 focused on thyroid cancer and medullary thyroid cancer. In 2018 ThyCa is supporting half of a new medullary thyroid cancer grant with Bite Me Cancer, two new thyroid cancer research grants, and four renewing grants. ThyCa is a member of the ATA Alliance for Patient Education. Find out more at www.thyca.org.
Bite Me Cancer (BMC) is our newest grant funder, supporting 8.5 thyroid cancer grants since 2014 for a total of $201,250. BMC will be supporting a half of a new medullary thyroid cancer grant in 2018 with ThyCa and one renewing thyroid cancer grant. BMC is a member of the ATA Alliance for Patient Education. Find out more at www.bitemecancer.org.
###
The American Thyroid Association (ATA) is the leading worldwide organization dedicated to the advancement, understanding, prevention, diagnosis, and treatment of thyroid disorders and thyroid cancer. ATA is an international, individual membership organization for over 1,700 clinicians and researchers from 43 countries around the world, representing a broad diversity of medical disciplines. It also serves the public, patients, and their families through education and awareness efforts.
Celebrating its 95th anniversary, ATA delivers its mission through several key endeavors: the publication of highly regarded monthly journals, Thyroid®, Clinical Thyroidology®, VideoEndocrinology, and Clinical Thyroidology for the Public; annual scientific meetings; biennial clinical and research symposia; research grant programs for young investigators; support of online professional, public, and patient educational programs; and the development of guidelines for clinical management of thyroid disease.
Find out more about ATA at www.thyroid.org.