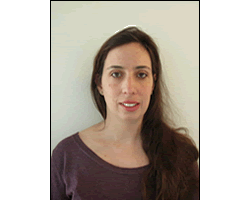 Supported by ATA
The American Thyroid Association (ATA) has awarded a 2016 Research Grant to Liora Katz, Ph.D., Instructor at the Diabetes Obesity and Metabolism Institute, Icahn School of Medicine at Mount Sinai, New York, NY. Dr. Katz's project, "T3 and Glucose Signaling in Pancreatic ß-cells," will examine how glucose and thyroid hormone (T3) can work together to regulate the number of insulin-producing ß-cells in the pancreas. This work could lead to new therapeutic approaches for increasing ß-cell proliferation to treat diabetes.
Individuals with either underactive or overactive thyroid often also have diabetes. However, the effect, if any, of T3 on the pancreas, and whether it differs depending on a person's blood glucose levels is poorly understand. Previous research by Dr. Katz and others has shown that T3 and glucose act together to increase expression of the ChREBP gene and, in response to T3 and glucose stimulation, the ChREBP protein appears to regulate the number of ß-cells.
Dr. Katz will use the grant funds to identify the genes in ß-cells on which the ChREBP protein acts to increase ß-cell mass. Her team aims to explore how modifications to T3 and glucose signaling might be able to treat or prevent diabetes in people with thyroid dysfunction. The second aspect of her proposal involves studying the effects of thyroid dysfunction in pregnant mice on ß-cell mass in their offspring and future risk for diabetes. Bio
Dr. Motoyasu Saji, Chair, ATA Research Committee says, "The ATA research grant program has been supporting young scientists in various thyroid-related research area, including clinical, translational, and basic areas. Every year we receive over 50 Grant applications from various countries. We excite to see young thyroid researchers, who attack current clinical problems and basic scientific questions using state of art technologies, new ideas, and new views. Many current leaders in the ATA were award recipients and this tells us how this program is important for us. We hope that this grant will be one of gateway to succeed in carrier as thyroid researchers and they will become leaders in next generation in the ATA. Finally, we appreciate all supports from members and various organizations, including cancer survivors, to make us possible creating excellent program."
The American Thyroid Association (ATA) has awarded 85 thyroid research grants totaling over $2.2 million since the inception of the Research Fund. In addition, the ATA rigorously manages the selection of research projects and distribution of over $1.8 million generously donated to the ATA specifically for research grants from ThyCa: Thyroid Cancer Survivors' Association, Inc. (ThyCa) and Bite Me Cancer.  The ATA supports all administrative and financial oversight for the research grant program. For information on other research grants underway and funded by the ATA, see http://www.thyroid.org/professionals/research-grants/thyroid-research-grant-recipients/.
ThyCa: Thyroid Cancer Survivors' Association, Inc. (ThyCa) has provided funding in support of 60 special research grants totaling $1,680,000 focused on thyroid cancer and medullary thyroid cancer since 2003. ThyCa is supporting three research grants in 2016 and three renewing grants. ThyCa is a member of the ATA Alliance for Patient Education. Find out more at www.thyca.org
Bite Me Cancer (BMC) is our newest grant funder supporting five thyroid cancer grants since 2014 for a total of $143,750. BMC will be supporting a new thyroid cancer grant in 2016 and one renewing grant. BMC is a member of the ATA Alliance for Patient Education. Find out more at www.bitemecancer.org.
###
The American Thyroid Association (ATA) is the leading worldwide organization dedicated to the advancement, understanding, prevention, diagnosis and treatment of thyroid disorders and thyroid cancer. ATA is an international individual membership organization for over 1,700 clinicians and researchers from 43 countries around the world, representing a broad diversity of medical disciplines. It also serves the public, patients and their family through education and awareness efforts.
Celebrating its 94th anniversary, ATA delivers its mission through several key endeavors: the publication of highly regarded monthly journals, THYROID, Clinical Thyroidology, VideoEndocrinology and Clinical Thyroidology for the Public; annual scientific meetings; biennial clinical and research symposia; research grant programs for young investigators, support of online professional, public and patient educational programs; and the development of guidelines for clinical management of thyroid disease.
More information about ATA is found at www.thyroid.org.