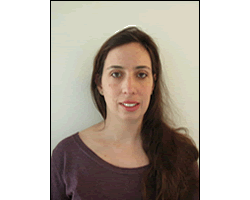 Liora Katz, PhD

Icahn School of Medicine at Mount Sinai
New York, New York
"T3 and Glucose signaling in pancreatic β-cells"
Dr. Liora S. Katz is an Instructor at the Diabetes, Obesity and Metabolism Institute, Icahn School of Medicine at Mount Sinai. Her research fields include diabetes, obesity and the role of thyroid hormones in cell differentiation. Dr. Katz combines in her research molecular biology, biochemistry, epigenetics, pharmacology, physiology and cell biology approaches. Her endocrinology research was published in a variety of scientific peer reviewed journals and she has presented her data in numerous international conferences. She has successfully written fellowship grants and won scientific awards from the American Thyroid Association, International Endocrine Society, National Institutes of Health, Swiss National Foundation (three times) and Servier Pharmaceutical Company. Dr. Katz completed her post-doctoral training at the Laboratory of Endocrinology and Receptor Biology at the National Institutes of Health. She holds a PhD from the department of Endocrinology, Diabetes and Nutrition, Geneva University, Switzerland and MSc in biological chemistry and BSc degree in biology from the Hebrew University of Jerusalem, Israel.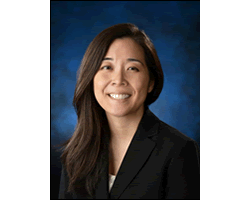 Connie Meeyoung Rhee, MD

University of California Irvine
Orange, California
"Thyroid Functional Disease, Mental Health, and Quality of Life in Chronic Kidney Disease Patients"
Dr. Connie Rhee is a nephrologist and early-career clinical investigator with a strong commitment to studying the interaction between thyroid functional disorders and kidney disease. She is a graduate of the Brigham and Women's Hospital/Massachusetts General Hospital joint nephrology fellowship program and the Harvard School of Public Health Master's of Science in Epidemiology program, and she is currently an Assistant Professor of Medicine at the University of California Irvine School of Medicine. Over the past six years, Dr. Rhee has conducted pioneering research showing that thyroid functional disease is highly prevalent in chronic kidney disease patients, and that hypothyroidism is associated with higher mortality risk in kidney disease populations while supported by an NIH F32 Postdoctoral Fellowship Award (2011-2012) and currently by an NIH K23 Career Development Award (2014-2019). Dr. Rhee ultimately aspires to become an independent NIH R01-funded investigator bridging the fields of endocrinology and kidney disease, and to develop a world-class research center devoted to 1) advancing our understanding of the interaction between endocrine disorders and kidney disease, 2) serving as a hub for other scientists in endocrinology and nephrology with expertise in clinical, translational, and basic science investigation, and 3) training the next generation of young investigators.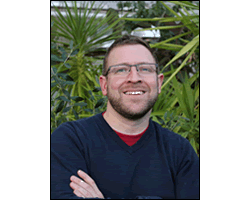 David S. Sharlin, PhD
Minnesota State University, Mankato
Mankato, MN
"Thyroid Hormone and Local Insulin-Like Growth Factor Production in Developing Brain"
Dr. David Sharlin received his Bachelor's of Science in Zoology from University of New Hampshire in 1999.  In 2002, Dr. Sharlin joined the lab of Dr. Tom Zoeller at the University of Massachusetts where he completed his Ph.D in Molecular and Cellular Biology.  His dissertation was focused on understanding the role of thyroid hormone in gliogenesis and myelination with an additional focus centered on understanding whether environmental chemicals could alter thyroid hormone mediated gliogenesis and myelination.  Upon completing his Ph.D. 2007, Dr. Sharlin joined the laboratory of Dr. Douglas Forrest at the National Institutes of Health where he studied the role of thyroid hormone in sensory system development with a focus on role of thyroid hormone transporters in cochlear development.  In August 2012, Dr. Sharlin accepted a tenure-track assistant professor appointment at Minnesota State University.  The overall goal of Dr. Sharlin's laboratory is to understand the molecular and cellular basis of neurocognitive and auditory deficits associated with insufficient thyroid hormone during development.  The lab is also investigating mechanisms by which endocrine disrupting chemicals may interfere with thyroid hormone mediated development of the nervous system.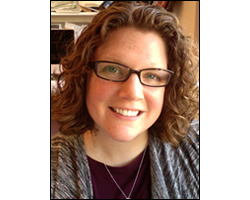 Kristen R. Vella, PhD
Beth Israel Deaconess Medical Center
Boston, MA
"Neuronal regulation of hepatic thyroid hormone clearance"
Kristen R. Vella, PhD is an Instructor at Beth Israel Deaconess Medical Center and Harvard Medical School. Dr. Vella received her undergraduate degree from MIT and her PhD from the University of Massachusetts Amherst. She was a postdoctoral fellow in the laboratory of Dr. Anthony Hollenberg at Beth Israel Deaconess Medical Center.
Dr. Vella's research focuses on the molecular mechanisms underlying thyroid hormone regulation by metabolic signaling, particularly through the central hypothalamic axis and peripheral tissues such as the liver. She investigates the neurons necessary and sufficient to maintain thyroid hormone levels using transcriptomics and chemogenetics. Her work detailing the role of arcuate neuropeptide Y neurons on the hypothalamic-pituitary-thyroid axis was recently presented at ENDO 2016.
Dr. Vella was a previous member of the ATA's Trainee and Career Advancement Committee and now serves on the ATA Internet Communications Committee.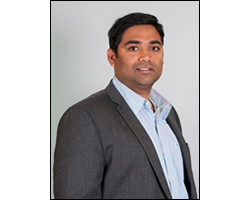 Viswanath Gunda, PhD
Massachusetts General Hospital
Boston, MA
"Combining immune checkpoints inhibitors with BRAF targeted therapy in thyroid cancer."
Dr. Viswanath Gunda is an Instructor in Cell Biology at Massachusetts General Hospital committed to translational research in thyroid cancer. After graduating from Sri Ramachandra University, India with high distinction, he completed his Ph.D thesis in Molecular Endocrinology laboratory at Indian Institute of Technology, Roorkee, India. During this time, he focused on studying molecular mechanisms for adverse effects of endocrine disruptor molecules on human health. Later, he moved to United States for Postdoctoral fellowship at University of Utah where his research efforts were towards understanding the role of orphan nuclear receptor, SHP in obesity and hepatic cancer.
Based on his expertise and interest in studying endocrine cancers, Dr. Gunda joined MGH as Research Fellow in Surgery with Dr. Sareh Parangi, herself a previous ATA research award winner. His research mainly spanned projects understanding the molecular mechanisms to overcome apoptotic resistance in BRAF therapy and utilizing immunotherapeutic strategies to treat thyroid cancer. To date, he co-authored 18 original peer-reviewed scientific publications. Dr. Gunda coordinates Endocrine Tumor Repository in Surgery department at MGH which primarily collects patient thyroid tumors and blood for research. His long-term scientific goal is to pursue translational research pertaining to molecular mechanisms of tumor progression in thyroid cancer.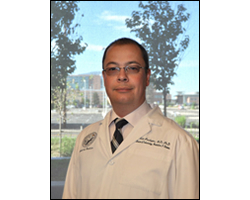 Nikita Pozdeyev, MD, PhD

University of Colorado
Aurora, CO
"Rational combination therapies with lenvatinib for advanced thyroid cancer"
Nikita Pozdeyev is involved in thyroid cancer research since 2013, when he joined the laboratory of Dr. Bryan Haugen after completing clinical year of the endocrinology fellowship training at the University of Colorado. He is currently an Instructor in the Department of Medicine and will be promoted to Assistant Professor in July 2016. His primary interest is in applying discovery-based science to develop new and improve existing treatments for the advanced thyroid cancer utilizing skills in high-throughput assay development, biostatistics and computer programming. Nikita Pozdeyev is currently involved in the projects dedicating to the study of pharmacogenomics relationships in thyroids cancer (PHOTON project in collaboration with Drs. Haugen and Schweppe), integration of the large pharmacogenomics databases (QAPC, http://tanlab.ucdenver.edu/QAPC/) and the development of rational combination therapies (this project and collaborations investigating the use of docetaxel and dasatinib in thyroid cancer). The principal investigator is dedicating 75% of his time the basic research and spends rest of his time treating patients with thyroid disorders including those with progressive metastatic thyroid cancer on targeted drugs.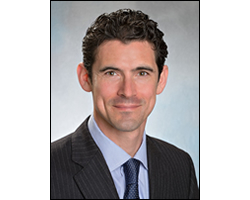 Trevor Angell, MD
Brigham and Women's Hospital and Harvard Medical School
Boston, MA
"Assessment of Circulation Immune Suppressor Cells for Predicating Treatment Response in Follicular Cell Derived Thyroid Carcinoma"
Dr. Angell is an Instructor in Medicine at the Harvard Medical School and has been a member of the Thyroid Section of the Division of Endocrinology, Diabetes, and Hypertension at Brigham and Women's Hospital since 2014. His research training during fellowship at the University of Southern California (Los Angeles, CA) focused on mechanisms of immune suppression in papillary thyroid cancer, leading to contibutions in our understanding of the suppressive immune phenotype of BRAF-V600E mutant papillary thyroid cancer and changes in immune ligand expression after tyrosine kinase inhibitor treatment of thyroid cancer cell lines in vitro. Most notely, Dr. Angell investigated the detection and quantification of circulating myeloid-derived suppressor cells in patients with thyroid nodules. Since joining the faculty at Brigham and Women's Hospital, he has continued to make academic contributions, studying thyroid nodules and thyroid with particular interest to cytologic, sonographic, and molecular predictors of disease outcomes. Trevor is a member of the American Thyroid Association and an ATA committee member.
Bite Me Cancer Research Grants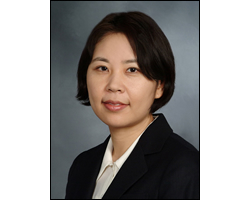 Irene Min, MD

Weill Cornell Medical College
New York, NY
"Application of chimeric antigen receptor (CAR)-T cell therapy in aggressive thyroid cancer"
Dr. Irene M. Min received her BS in Biology from Sogang University, Seoul, South Korea in 1997, and M.Phil from the Department of Physiology, from Cambridge University, England, in 1998. She earned her PhD in Genetics from Tufts University School of Medicine in Boston, MA in 2004. She has trained with a leader in stem cell biology field at Harvard Medical School, Boston and completed a postdoctoral fellowship at Cornell University, Ithaca, NY in 2012, where she was awarded with the American Cancer Society postdoctoral fellowship for two years. An experienced basic research scientist with a focus in stem cell biology, genetics and genomics, Dr. Min's main research interests are understanding transcription regulation in stem cells and cancer, and developing therapeutic tools to target specific pathway to examine the functional consequences in cell growth and to further advance related technologies for diagnostics and therapeutics. She is widely-published in prestigious journals such as Cell Stem Cell, Genes and Development, and Immunity and has co-authored a book chapter in Advances in Immunology.