ATA Mission
The ATA is the leading organization devoted to thyroid biology and to the prevention and treatment of thyroid disease through excellence in research, clinical care, education, and public health.
We invite you to join the ATA—the Professional Home for Leading Thyroidologists!
The American Thyroid Association (ATA) serves as the professional home to leading researchers and clinicians in the field of thyroidology, and provides a rich resource for the public and patients with thyroid disease and thyroid cancer. 1700 members from 43 different countries, span a variety of disciplines, working together as a close-knit organization of researchers, clinicians, surgeons and other healthcare professionals, to advance the care and treatment of patients with thyroid disease.
Through ATA publications, meetings, committees and task forces the ATA provides a dynamic and professionally diversified environment for members to share the latest research and information in the field. It further serves as a platform for members to expand their professional networks, collaborate with colleagues, and exert leadership in the field of thyroidology. Young scientists, clinicians, and trainees find the ATA vibrant setting for professional growth.
Benefits of ATA membership include:
ATA Publications:

Thyroid is the official journal of the ATA, published monthly, and includes peer-reviewed articles from physicians and scientists detailing the latest research in thyroid treatment and disease.

SIGNAL is the ATA member newsletter which keeps you informed on upcoming meetings, public affairs issues, highlights of the work of the Board and committees on your behalf.

Clinical Thyroidology is a valued abstract and commentary publication, giving expert surveys and summaries of cutting-edge, clinical thyroid literature.

Clinical Thyroidology for the Public summarizes in laymen's terms selected research studies discussed in the previous month's issue of Clinical Thyroidology.

VideoEndocrinology is a rapid publication videojournal that offers a new venue for physicians and surgeons to showcase new techniques and approaches in treating thyroid diseases and cancers.

ATA Annual Meetings: The annual meeting, held every fall, brings together over 1,000 physicians and investigators from around the world to share the newest clinical and basic science research into thyroid disease. The meeting features posters, platform presentations, symposia, "meet the professor" workshops, discussion groups, and distinguished lectures. Awards are made to outstanding clinicians, academicians, young researchers, and dedicated Association members. Selected young investigators receive travel grants to attend the meeting.
International Thyroid Congress: Every fifth year, the ATA Annual Meeting becomes a part of the International Thyroid Congress, as the American Thyroid Association joins with the Latin American Thyroid Society, the European Thyroid Association, and the Asia Oceania for an expanded international gathering. It offers all the features of the Annual Meeting and so much more, as ATA members have the opportunity to interact more broadly with their international colleagues. In 2015, the ITC will be held October 18-23 in Lake Buena Vista, Florida at the Disney Swan and Dolphin Resort.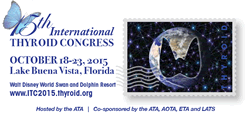 ATA Guidelines: Be a proud member of the leading thyroid organization developing clinical guidelines for the management of thyroid disease. Draft guidelines are available for ATA members' preview and comment before going out for peer review.
ATA Find a Thyroid Specialist: ATA clinical members may opt to be listed in our online referral service (www.thyroid.org). Patients with concerns regarding their thyroid use this resource to connect with a doctor in their area.
Access to Member Services: Online access to member resources, the ATA membership directory, as well as, leadership and governance resources including bylaws, announcements, and meeting minutes is available 24/7.
Patient Education Resources: The ATA can support your clinical practice with information and brochures that explain thyroid disease in layman's language and so that your patients can better understand their disease. You can download brochures to give to patients in your office or refer them to our website for information. (Many are offered in Spanish, as well as English.) There is a special Public and Patient section on the ATA website. The publication Clinical Thyroidology for the Public is sent free to all "Friends of the ATA."
Research: The ATA oversees the award of six research grants per year. (Three are funded by Thyroid Cancer Survivors, Inc., known as ThyCa, and three funded by the ATA.) Through its journals, annual meeting sessions, and symposia, ATA further serves as a valuable source of information on thyroid research. Research by ATA members has led to important breakthroughs that have improved the lives of patients with thyroid diseases.