The ATA supports thyroid research through the generosity of members, patients, industry, and workplace donors enabling the ATA to award thyroid research grants since 1996.  ThyCa: Thyroid Cancer Survivors, Inc., a member of the ATA Alliance for Patient Education and Thyroid Head and Neck Cancer Foundation (THANC) contribute significant thyroid research grants establishing additional grants for young investigators that are awarded (in total) by expert reviewers on the ATA Research Committee.  Our thanks to the members of the ATA Research Committee who have contributed their time and expertise over many years to the advancement of thyroidology.
2003 ATA Research Grant Recipients
2003 ATA Grants
Eric M. Jacobson, PhD – Mount Sinai School of Medicine, New York, New York
Molecular Determinants of the Presentation of Immunogenic Thyroglobulin Peptides by HLA-DR3
2003 ATA Grant
Tyrosine Kinase Receptor Oncogenes and Prostanoid Biosynthesis: Role of RET/PTC-induced Activation of Prostaglandin E2 Synthase in Thyroid Tumorigenesis 
Jeffrey A. Knauf, PhD
University of Cincinnati College of Medicine, Cincinnati, Ohio
Currently at Memorial Sloan Kettering Cancer Center, New York, New York
Jeffrey Knauf, PhD is an Associate Attending Biologist.
2003 ThyCa ATA Grant
BRAF Gene Mutation and the Oncogenesis of Papillary Thyroid Carcinomas
Xiulong Xu, PhD
Rush Presbyterian St. Luke's Medical Center, Chicago, Illinois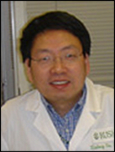 Dr. Xiulong Xu is an assistant professor in the Department of General Surgery at Rush University Medical Center in Chicago, Illinois. He studied Veterinary Medicine in Yangzhou University from 1980-1984 and earned a Ph.D. degree in 1990 from Nanjing Agricultural University, P. R. China. Dr. Xu received his training in virology and immunology in Ludwig-Maximilians-Universität, Munich, Germany, and Rush University, Chicago. Dr. Xu became a faculty at Rush University since 1996. The main focus of Dr. Xu's research includes tumor biology, immunology, and diabetes.
Back to Research Grant Listing by Year