The ATA supports thyroid research through the generosity of members, patients, industry, and workplace donors enabling the ATA to award thyroid research grants since 1996.  ThyCa: Thyroid Cancer Survivors, Inc., a member of the ATA Alliance for Patient Education and Thyroid Head and Neck Cancer Foundation (THANC) contribute significant thyroid research grants establishing additional grants for young investigators that are awarded (in total) by expert reviewers on the ATA Research Committee.  Our thanks to the members of the ATA Research Committee who have contributed their time and expertise over many years to the advancement of thyroidology.
2004 ATA Research Grant Recipients
2004 ATA Grants
Orsolya Dohan, MD – Albert Einstein College of Medicine, Bronx, New York
Regulation of the Sodium/Iodide Symporter (NIS) by Iodide
2004 ATA Grant
Fibroblast Immune Activation in Graves' Disease
Raymond S. Douglas, MD, PhD
Harbor-UCLA Research and Education Institute, Torrance, California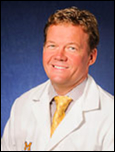 Raymond S. Douglas is Associate Professor of Ophthalmology at the University of Michigan. He was formerly Assistant Professor of Ophthalmology at UCLA, Assistant Professor of Ophthalmology and Molecular Medicine at Harbor-UCLA Medical Center and Assistant Professor and Director of Orbital and Facial Plastic Surgery at the Greater Los Angeles Veterans Hospital. Dr. Douglas obtained his BSE, MD and PhD at the University of Pennsylvania, before completing his residency at the University of Pennsylvania and his fellowship at UCLA in Facial Plastic and Reconstructive Surgery. He specializes in orbital surgery, especially minimally invasive surgery, and decompressions for thyroid-associated eye disease. His research focus is Graves' eye disease, autoimmune disease of the orbit and minimally invasive approaches to the orbit.
2004 ThyCa ATA Grant
Antiangiogenic Therapy of Thyroid Cancer
Sareh Parangi, MD
Beth Israel Deaconess Medical Center, Boston, Massachusetts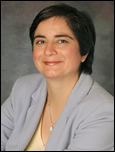 Dr. Sareh Parangi is an Associate Professor of Surgery at Harvard Medical School, Massachusetts General Hospital. She is a busy endocrine surgeon with an interest in aggressive thyroid cancers. An ATA Thyca awardee for 2005, she was able to leverage those funds to become an RO1 funded physician scientist at the MGH. Dr. Parangi has been able to balance her passion for translational research with innovative and compassionate care to patients with complex thyroid diseases. Her work in thyroid cancer details certain key genetic changes seen more frequently in those who do poorly, to help elucidate the role of these genetic changes in the aggressive behavior of those cancers. This important research effort focuses on clarifying the molecular mechanism of thyroid cancer invasion and understanding the process of disease progression in patients with thyroid cancer. Therapeutic strategies being currently tested include rational combinatorial therapies, anti-apoptotic strategies and studying underlying mechanisms of resistance to BRAF inhibitors.
2004 Second Year Grant Awardees
Eric M. Jacobson, PhD
Jeffrey A. Knauf, PhD
Back to Research Grant Listing by Year