The ATA supports thyroid research through the generosity of members, patients, industry, and workplace donors enabling the ATA to award thyroid research grants since 1996.  ThyCa: Thyroid Cancer Survivors, Inc., a member of the ATA Alliance for Patient Education and Thyroid Head and Neck Cancer Foundation (THANC) contribute significant thyroid research grants establishing additional grants for young investigators that are awarded (in total) by expert reviewers on the ATA Research Committee.  Our thanks to the members of the ATA Research Committee who have contributed their time and expertise over many years to the advancement of thyroidology.
2005 ATA Research Grant Recipients
2005 ATA Grant
Generation and Analysis of Mice Deficient in the Thyroid Hormone Transporter MCT8
Heike Heuer, PhD
Leibniz Institute for Age Research – Fritz Lipmann Institute, Jena, Germany
Currently at University Hospital Essen, Essen, Germany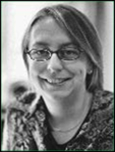 Heike Heuer, PhD  is a faculty member of the University Duisburg-Essen. She performed her PhD thesis at the Max Planck Institute for experimental Endocrinology in Hannover (Germany) followed by a postdoctoral training at the Center for Neurobiology & Behavior, Columbia University, NY. Afterwards, she accepted an independent research group leader position at the Leibniz Institute on Aging/Fritz Lipmann Institute (FLI) in Jena (Germany) and moved in 2014 as an independent research group leader at the Leibniz Research Institute for Environmental Medicine (IUF) to Düsseldorf (Germany).  Since 2018, she holds a tenured professorship for Molecular Thyroidology in the Dept. of Endocrinology at University Hospital Essen (Germany). Her major research focus is to define the function of thyroid hormone transporters by studying the respective mouse models. For her analysis of MCT8 deficient mice Dr Heuer has been awarded in 2005 with an ATA research grant.
2005 ATA Grant
Mechanism of Regulation Gene Expression by Thyroid Hormone Receptors Through RNA Binding Pathways
Bin Xu, PhD
University of Michigan, Ann Arbor, Michigan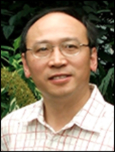 Bin Xu, Ph.D. Bin Xu, Ph.D. is a Research Assistant Professor in the Division of Metabolism, Endocrinology and Diabetes at the University of Michigan. Dr. Xu received his bachelor's degree in 1986 and Ph.D. in 1996 from Ocean University of China. Dr. Xu continued at Ocean University of China as a Lecturer in Aquaculture since 1991 and became an Associate professor in 1996. Dr. Xu completed his postgraduate training in Biochemistry and Molecular Endocrinology from University of Michigan Medical School. Dr. Xu joined the faculty at the University of Michigan in 2001.
Dr. Xu's research interests focus on regulation of gene expression by nuclear receptors (NRs) that are coordinated by direct or indirect interaction with RNA. He has characterized the novel RNA-binding domains in thyroid hormone receptors TR1 and TR2 steroidogenic factor 1 (SF-1) and PPAR

. Dr. Xu's recent research has been focused on the biological function of the non-coding RNA of steroid receptor RNA activator (SRA), and its coding protein (SRAP) in adipocytes, and the long term research interest is to understand the mechanism by which SRA/SRAP regulate fate of mesenchymal stem cells to the adipocyte lineage, and differentiation to white or brown adipocytes, and SRA/SRAP modulate insulin action and energy balance.
2005 ThyCa ATA Grant – Medullary Thyroid Cancer
Induction of Cytotoxic Immunity in Medullary Thyroid Carcinoma by Dendritic
Matthias Schott, MD
Heinrich-Heine-University of Duesseldorf, Duesseldorf, Germany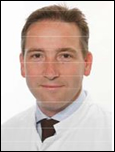 Matthias Schott is currently a Professor at the University Hospital Düsseldorf, Head of the Division for Specific Endocrinology Department of Endocrinology and Diabetes. Dr. Schott's key expertise is in the field of autoimmune thyroid diseases as well as in the field of endocrine malignancies. He performed a multitude of different studies for the diagnostic of autoimmune diseases as well as cell transfer studies for the treatment of autoimmune and malignant endocrine diseases. This has been done in animal models as well as in humans. Matthias Schott is member of many organizations, most importantly he is member of the research committee of the American Thyroid Association.
2005 ThyCa ATA Grant – Thyroid Cancer
Radiation Response Genotype & Risk of Papillary Thyroid Cancer: A Case-Control Study.
Erich Sturgis, MD, FACS
The University of Texas MD Anderson Cancer Center, Houston, Texas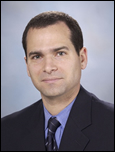 Erich Sturgis, MD received a Bachelor of Science degree in biochemistry cum laude from L.S.U., and he attended Georgetown University School of Medicine graduating cum laude with a Medical Doctorate in 1990. He was a general surgery intern at Tulane University and Charity Hospital and subsequently, a research fellow in head and neck oncology at Memorial Sloan-Kettering Cancer Center. Dr. Sturgis completed a residency in Otolaryngology-Head and Neck Surgery at Tulane University in 1996 and became certified by the American Board of Otolaryngology in 1997. After a head and neck surgery fellowship at Vrije University in Amsterdam, he completed a two-year research fellowship in molecular epidemiology at The University of Texas-M.D. Anderson Cancer Center followed by a one-year clinical fellowship in head and neck surgery. In 2000, he joined the faculty of the Department of Head and Neck Surgery as an assistant professor with a joint appointment in Epidemiology at The University of Texas-M.D. Anderson Cancer Center. He completed a Master of Public Health at The University of Texas Health Science Center at Houston School of Public Health in 2004 and was promoted to associate professor with tenure in 2005 and full professor with tenure in 2010.
2005 Second Year Grant Awardees
Orsolya Dohan, MD
Raymond Douglas, MD, PhD
Sareh Parangi, MD – ThyCa Grant
Back to Research Grant Listing by Year