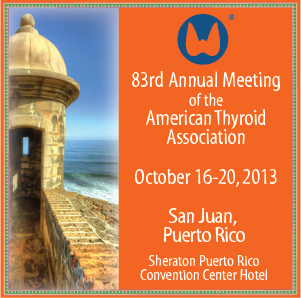 WHAT SHOULD YOU EXPECT AT THE 83RD ANNUAL MEETING OF THE AMERICAN THYROID ASSOCIATION?
At the 83rd Annual Meeting of the American Thyroid Association (ATA), attendees will experience top-notch educational sessions, great networking opportunities and unmatched collegiality. Chaired by Drs. Julie Ann Sosa and Ronald Koenig, the ATA will deliver the fantastic program that is expected by those who choose the ATA meeting as their most rewarding scientific educational experience year after year. This year's program promises excellent science, access to key leaders in the field and great camaraderie.
LOCATION
An island located between the Caribbean Sea and the North Atlantic Ocean, Puerto Rico boasts a unique experience of Latin culture with American benefits. The 'other' walled city in North America, Puerto Rico is filled with culture and history located 1,000 miles south of Miami, Florida. A commonwealth and located within the U.S. customs jurisdiction, Puerto Rico allows free movement between the United States mainland and the island, a perfect setting for ATA attendees from around the world to meet.
WHY SHOULD YOU ATTEND?
The American Thyroid Association is the leading organization focused on thyroid biology and the prevention and treatment of thyroid disorders through excellence and innovation in research, clinical care, education, and public health. Earn CME credits, hear innovative talks on clinical topics, participate in interactive sessions, develop professionally with state of the art information, and meet with friends and colleagues.
WHO WILL BE THERE?
The ATA meeting is designed for the community of endocrinologists, internists, surgeons, basic scientists, nuclear medicine scientists, pathologists, endocrine, fellows, nurses, physician assistants and other health care professionals who wish to broaden and update their knowledge of the thyroid gland and its disorders. Clinical, basic and surgical fellows will have customized educational tracks to enhance their meeting experience.
JOIN THE ATA!
Celebrating its 90th anniversary, ATA delivers its mission through several key endeavors:
The publication of highly regarded monthly journals, THYROID, Clinical Thyroidology and Clinical Thyroidology for Patients;
Annual scientific meetings; biennial clinical and research symposia;
Research grant programs for young investigators;
Support of educational programs in person and online for professionals, the public and patients;
Development of evidence based guidelines for clinical management of thyroid disease. To become a member of the ATA, click here to learn how to join and become a part of the collegial thyroid world!