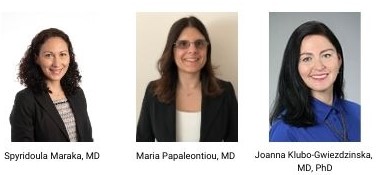 The American Thyroid Association (ATA) celebrates the recipients of the Women Advancing Thyroid Research Award.  This award recognizes and honors the work of young women that are leading outstanding thyroid research.
Joanna Klubo-Gwiezdzinska, MD, PhD is a Lasker Tenure Track Investigator and Acting Section Chief: Thyroid Tumors and Functional Thyroid Disorders, Metabolic Diseases Branch of the National Institute of Diabetes and Digestive Kidney Diseases at the NIH. Klubo-Gwiezdzinska's research focuses on finding optimal options for diagnosis and treatment of thyroid nodules and thyroid cancer as well as on an understanding of the mechanisms of thyroid cancer response to therapy.  She serves on the Editorial Board for Thyroid journal and is recognized for the 2020 article Targeting Integrins with Radiolabeled RGD Analogues for Radiotheranostics of Metastatic Radioactive Iodine Nonresponsive Thyroid Cancer: New Avenues in Personalized Medicine.
Spyridoula Maraka, MD, MS is an Assistant Professor in the Division of Endocrinology and Metabolism in the Department of Internal Medicine at the University of Arkansas for Medical Sciences. Maraka's research focuses on thyroid disorders, mainly hypothyroidism in pregnancy and subclinical hypothyroidism in older adults, with the goal to advance patient-centered, evidence-based endocrine care.  She serves on the Editorial Board for Thyroid journal and is recognized for the 2020 article Clinical Outcomes After Discontinuation of Thyroid Hormone Replacement: A Systematic Review and Meta-Analysis.
Maria Papaleontiou, MD is an Assistant Professor in the Division of Metabolism, Endocrinology and Diabetes at the University of Michigan Dr. Papaleontiou's research focuses on evaluating the risks of thyroid hormone overtreatment and misuse in older adults, understanding the role of providers and patients in thyroid hormone use and misuse and how it relates to patient outcomes in the aging population, the role of age and comorbidity in thyroid cancer decision-making and thyroid cancer overdiagnosis and overtreatment. She serves on the Editorial Board for Thyroid journal and is recognized for her publications in Thyroid: Patient Report of Recurrent and Persistent Thyroid Cancer and Too Much of a Good Thing? A Cautionary Tale of Thyroid Cancer Overdiagnosis and Overtreatment.
"Core to the American Thyroid Association's mission is supporting our members' career development and fostering diversity, equity, and inclusion in the field.  The Women Advancing Thyroid Research Award is one way that we can recognize not only the role that our members play in advancing research and clinical care, but also their contributions to supporting the American Thyroid Association community.  Drs. Klubo-Gwiezdzinska, Maraka and Papaleontiou are globally recognized experts and we congratulate them on this well-deserved recognition," said Jacqueline Jonklaas, MD, PhD, ATA's Secretary. "We wish them continuing success in their careers".
The American Thyroid Association thanks Mary Ann Liebert, Inc. and the Rosalind Franklin Society, sponsors of this award.
"The Rosalind Franklin Society is thrilled to congratulate these eminent scientists. They bring important attention to the critical contributions of women and multicultural perspectives to the advancement of thyroid research," Karla Shepard Rubinger, Vice President & Director, Professional Education, Mary Ann Liebert, Inc., publishers. 
About the American Thyroid Association®
The American Thyroid Association (ATA) is dedicated to transforming thyroid care through clinical excellence, education, scientific discovery and advocacy in a collaborative and diverse community. ATA® is an international professional medical society with over 1,800 members from 43 countries around the world. The ATA® promotes thyroid awareness and information through Clinical Thyroidology® for the Public, a resource that summarizes research for patients and families, and extensive, authoritative resources on thyroid disease and thyroid cancer in both English and Spanish. The ATA® website www.thyroid.org serves as a bonafide clinical resource for patients and the public who look for reliable thyroid-related information.
About Mary Ann Liebert
Mary Ann Liebert, Inc., publishers is known for establishing authoritative peer-reviewed journals in many promising areas of science and biomedical research. A complete list of the firm's more than 90 journals, books, and newsmagazines is available on its website.
About the Rosalind Franklin Society
The Rosalind Franklin Society recognizes and celebrates the contributions of outstanding women in the life sciences and affiliated disciplines, promotes broadened opportunities for women in the sciences, and through its many activities motivates new generations of women to this calling.  The Society honors the achievements of Rosalind Franklin (1920-1958), a British x-ray crystallographer whose extraordinary work, though largely overlooked and under-appreciated at the time, was crucial to the discovery of DNA's structure by James Watson and Francis Crick.