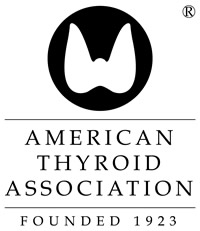 In a stimulating new Roundtable Discussion, a distinguished panel of leading physicians and clinical researchers highlight the key changes, new topics, and areas of ongoing controversy in the "2016 American Thyroid Association Guidelines for Diagnosis and Management of Hyperthyroidism and Other Causes of Thyrotoxicosis." The Roundtable Discussion and the American Thyroid Association (ATA) guidelines are available free on the website of Thyroid, the official peer-reviewed journal of the ATA, published by Mary Ann Liebert, Inc., publishers.
Led by Moderator Douglas S. Ross, MD, Harvard Medical School and Massachusetts General Hospital, Boston, the Roundtable features panelists Victor J. Bernet, MD, Mayo Clinic and Mayo Clinic College of Medicine, Jacksonville, FL;  David S. Cooper, MD, The Johns Hopkins University School of Medicine, Baltimore, MD; Gilbert Daniels, MD, Harvard Medical School and Massachusetts General Hospital; Jacqueline Jonklaas, MD, PhD, Georgetown University, Washington, DC; John C. Morris, MD, Mayo Clinic, Rochester, MN; Elizabeth N. Pearce, MD, Boston University School of Medicine; Mary Samuels, MD, Oregon Health & Science University, Portland; and Julie Ann Sosa, MD, MA, Duke Cancer Institute and Duke Clinical Research Institute, Duke University, Durham, NC.
The panelists, all members of the American Thyroid Association and some of whom were on the task force that developed the previous management guidelines in 2011, highlighted the major changes in the 2016 guidelines, which included an increase in the number of recommendations from 100 to 124 and an expanded focus on more unusual cases of thyrotoxicosis. The spirited and informative discussion also focused on important changes in the new guidelines, including new paradigms for determining the etiology of thyrotoxicosis, new approaches to monitor response to anti-thyroid drugs such as measures of thyrotropin receptor antibodies, new data supporting the safety of long-term use of anti-thyroid drugs, and new approaches to manage hyperthyroidism in women who want to become pregnant.
"These guidelines provide a significant update compared to the previous version published in 2011 because they integrate recent studies and developments in practice trends. They form a detailed and balanced framework for the diagnosis and management of patients with different etiologies of thyrotoxicosis that is based on the currently available evidence," says Peter A. Kopp, MD, Editor-in-Chief of Thyroid and Professor of Medicine, Division of Endocrinology, Metabolism, and Molecular Medicine, Northwestern University Feinberg School of Medicine, Chicago.
"The updated guidelines have refined several important aspects of diagnosis and management of patients with hyperthyroidism based upon new knowledge and technology.  The panel's discussion focused upon several of the more common issues regarding application of new recommendations.  I found it to be both simulating and informative." says John C. Morris, MD, President of the American Thyroid Association, Professor of Medicine, Mayo Clinic, Rochester, Minnesota.
The Roundtable was supported by Quidel.
About the Journal
Thyroid, the official journal of the American Thyroid Association, is an authoritative peer-reviewed journal published monthly online with open access options and in print. The Journal publishes original articles and timely reviews that reflect the rapidly advancing changes in our understanding of thyroid physiology and pathology, from the molecular biology of the cell to clinical management of thyroid disorders. Complete tables of content and a sample issue may be viewed on the Thyroid website. The complete Thyroid Journal Program includes the highly valued abstract and commentary publication Clinical Thyroidology, led by Editor-in-Chief Jerome M. Hershman, MD and published monthly, and the groundbreaking videojournal companion VideoEndocrinology, led by Editor Gerard Doherty, MD and published quarterly. Complete tables of content and sample issues may be viewed on the Thyroid website.
About the Society
The American Thyroid Association (ATA) is the leading worldwide organization dedicated to the advancement, understanding, prevention, diagnosis, and treatment of thyroid disorders and thyroid cancer. ATA is an international membership medical society with over 1,700 members from 43 countries around the world. Celebrating its 94th anniversary, the ATA delivers its mission — of being devoted to thyroid biology and to the prevention and treatment of thyroid disease through excellence in research, clinical care, education, and public health — through several key endeavors: the publication of highly regarded professional journals, Thyroid, Clinical Thyroidology, and VideoEndocrinology; annual scientific meetings; research grant programs for young investigators, biennial clinical and research symposia; support of online professional, public and patient educational programs; and the development of guidelines for clinical management of thyroid disease and thyroid cancer. The ATA promotes thyroid awareness and information through its online Clinical Thyroidology for the Public (distributed free of charge to over 11,000 patients and public subscribers) and extensive, authoritative explanations of thyroid disease and thyroid cancer in both English and Spanish. The ATA website serves as the clinical resource for patients and the public who look for reliable information on the Internet.
About the Publisher
Mary Ann Liebert, Inc., publishers is a privately held, fully integrated media company known for establishing authoritative peer-reviewed journals in many promising areas of science and biomedical research, including Diabetes Technology & Therapeutics, Journal of Women's Health, and Metabolic Syndrome and Related Disorders. Its biotechnology trade magazine, Genetic Engineering & Biotechnology News (GEN), was the first in its field and is today the industry's most widely read publication worldwide. A complete list of the firm's more than 80 journals, books, and newsmagazines is available on the Mary Ann Liebert, Inc., publishers website.