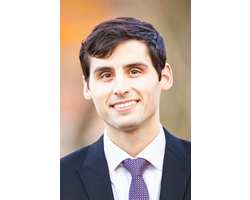 Miles Miller, PhD

Massachusetts General Hospital and Harvard Medical School
Boston, MA

Bio
The American Thyroid Association has awarded a 2018 Research Grant to Miles Miller, PhD, principal investigator at the Massachusetts General Hospital Center for Systems Biology and Assistant Professor of Radiology at Harvard Medical School. Dr. Miller's research project is titled "Co-opting tumor-associated macrophages in anaplastic thyroid cancer to enhance immune-checkpoint blockade response."
Treatment of advanced metastatic cancer has seen a revolution over the last several years, as new therapeutic strategies have become successful at harnessing the power of the immune system to durably attack malignant and mutated cancer cells. Immune-checkpoint blockade therapies targeting programmed-death 1 (PD1) signaling on T-cells have been successful in the treatment of solid cancers, including heavily mutated melanomas and lung cancers. Unfortunately, these treatments only work in a fraction of patients, and resistance is often associated with the presence of a type of tumor-promoting immune cell: the tumor-associated macrophage. Highly aggressive anaplastic thyroid cancers (ATC) can contain extremely high levels of these macrophages, which may be why drug resistance is so common in these cancers.
Although ATC represents less than 10% of thyroid malignancies worldwide, it contributes to a disproportionately high fraction of deaths from thyroid cancer, ranging from 15 to 50% by some estimates. Ongoing clinical trials are testing PD1-targeted immunotherapy, but initial indications suggest large numbers of patients will not see durable responses. Thus, a clear need exists to understand the mechanisms: Why doesn't ATC respond better to immune-checkpoint blockade or to other advanced biologic therapies? New strategies against the disease are urgently needed.
This project will bring together new techniques for simultaneously imaging the delivery and action of biologics in tumors in vivo, combined with expertise in mouse models of metastatic thyroid cancer, to offer fundamental, mechanistic knowledge of how specific drugs work or fail in ATC. Strikingly little is known about how much of a given drug accumulates in ATC, what the heterogeneity of drug accumulation is across primary tumors and metastases, and how drug exposure ultimately impacts response or nonresponse.
Dr. Miller's laboratory recently discovered that tumor-associated macrophages critically influence the delivery and action of biologic therapies (including PD1-targeted drugs) and may be co-opted to synergistically improve drug response. ATC shows special promise for this approach, as macrophages outnumber tumor cells themselves in some ATC cases. New unpublished findings reveal ATC-macrophage content can increase substantially with targeted therapy. Dr. Miller's approach promises to clarify the relationships between drug exposure and trajectories of cell response or resistance, which are monitored over time using fluorescent readouts of immune activity and tumor-cell killing. Dr. Miller hypothesizes that variability in local macrophage levels will play a key role in mediated drug response, especially at sites of metastasis, and aims to test whether combination treatments can repurpose macrophages for enhancing treatment efficacy.
This project will leverage the recent discoveries of Miller's lab into the function and therapeutic potential of tumor-associated macrophages, along with expertise and compelling new observations from Sareh Parangi, MD, Director of the MGH Thyroid Cancer Research Laboratory, who for over a decade has developed and tested treatment strategies in an impressive array of advanced, preclinical, metastatic thyroid cancer models.
In addition to serving as a principal investigator at the Massachusetts General Hospital Center for Systems Biology and Assistant Professor of Radiology at Harvard Medical School, Dr. Miller is also a faculty member of the Harvard Bioinformatics and Integrative Genomics PhD Program. For the last 10 years he has developed new approaches and technologies for parsing mechanisms of drug action and cancer behavior in disease microenvironments from a quantitative, network-level perspective. He has extensive training and publications in computational modeling, multivariate statistics, in vivo microscopy, nanotechnology, and cancer pharmacology. As an NIH-funded postdoctoral fellow, he developed new techniques for imaging the in vivo transport, cellular uptake, and pharmacodynamics of novel chemotherapeutic formulations at a single-cell level within live tumor models. Dr. Miller received a Ph.D. from the Massachusetts Institute of Technology Department of Biological Engineering. He graduated summa cum laude from Princeton University.
Dr. Antonio Di Cristofano, Chair, ATA Research Committee, says, "The ATA research grant program represents a unique and invaluable mechanism to foster the development of a new generation of basic, translational, and clinical researchers. Through this program, we allow these outstanding young scientists to test innovative hypotheses and generate preliminary data that will give them a significant competitive advantage when applying for traditional NIH-type funding.
This year we received 63 applications from 18 countries, spanning the whole spectrum of thyroid-related research. While, through a rigorous process, we have selected the most promising projects for funding, at the same time we regret we had to leave behind a number of excellent proposals. We are extremely thankful for the support we receive from members and organizations, including thyroid cancer survivors, which makes this outstanding program possible and allows the ATA to nurture the next generation of leaders in thyroidology."
The American Thyroid Association (ATA) has awarded 99 thyroid research grants totaling over $2.8 million since the inception of the Research Fund. In addition, the ATA rigorously manages the selection of research projects and the distribution of over $1.8 million generously donated to the ATA specifically for research grants from: ThyCa, the Thyroid Cancer Survivors' Association, Inc.; Bite Me Cancer; and the Thyroid Head and Neck Cancer Foundation.
The Thyroid Cancer Survivors' Association, Inc. (ThyCa), has provided funding since 2003 in support of 72.5 special research grants totaling $2,084,375 focused on thyroid cancer and medullary thyroid cancer. In 2018 ThyCa is supporting half of a new medullary thyroid cancer grant with Bite Me Cancer, two new thyroid cancer research grants, and four renewing grants. ThyCa is a member of the ATA Alliance for Patient Education. Find out more at www.thyca.org.
Bite Me Cancer (BMC) is our newest grant funder, supporting 8.5 thyroid cancer grants since 2014 for a total of $201,250. BMC will be supporting a half of a new medullary thyroid cancer grant in 2018 with ThyCa and one renewing thyroid cancer grant. BMC is a member of the ATA Alliance for Patient Education. Find out more at www.bitemecancer.org.
###
The American Thyroid Association (ATA) is the leading worldwide organization dedicated to the advancement, understanding, prevention, diagnosis, and treatment of thyroid disorders and thyroid cancer. ATA is an international, individual membership organization for over 1,700 clinicians and researchers from 43 countries around the world, representing a broad diversity of medical disciplines. It also serves the public, patients, and their families through education and awareness efforts.
Celebrating its 95th anniversary, ATA delivers its mission through several key endeavors: the publication of highly regarded monthly journals, Thyroid®, Clinical Thyroidology®, VideoEndocrinology, and Clinical Thyroidology for the Public; annual scientific meetings; biennial clinical and research symposia; research grant programs for young investigators; support of online professional, public, and patient educational programs; and the development of guidelines for clinical management of thyroid disease.
Find out more about ATA at www.thyroid.org.