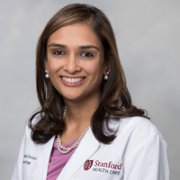 An Individualized Approach to Thyroid Hormone Replacement in Thyroid Cancer Patients
Kaniksha Desai, MD, FACE
Stanford University
Palo Alto, CA
August 24, 2021
Thyroid hormone replacement is a critical element in the overall management of patients with thyroid cancer. For a long period of time, aggressive TSH suppression with long-term high doses of thyroid hormone was advocated for all thyroid cancer patients to prevent cancer recurrence by reducing the stimulation of cancer cells. Recently, a growing body of evidence has suggested a limited benefit to aggressive TSH suppression in many patients. In addition, there appears to be significant risks of long-term TSH suppression to cardiovascular health, bone health, and mental health including the development of osteoporosis, atrial fibrillation, and mood disorders, which can significantly impact Quality of Life in thyroid cancer patients. Benefits of preventing cancer recurrence should be balanced with risks of excessive thyroid hormone replacement. Therefore, thyroid hormone replacement should be tailored to provide appropriate levels of TSH suppression based on a dynamic risk stratification in thyroid cancer patients.
Currently best practice for the management of thyroid cancer patients determines individualized thyroid hormone replacement therapy based on risk stratification of cancer recurrence following initial surgery and the patient's response to subsequent treatment.
After initial surgery, patients are risk-stratified based upon their surgical pathology and extent of tumor metastasis. They are categorized into three groups for their risk of recurrence: low (<5%), intermediate (5-30%) and high (30-50+%). Thyroid hormone replacement is initiated with TSH goals based upon this risk stratification. Low risk patients that have had their cancer completely resected, including lobectomy patients, are given replacement doses to make them euthyroid with a TSH goal of 0.5 to 2.0 mu/L. Intermediate risk patients, often with lymph node involvement, have mild suppression of their TSH with thyroid hormone replacement dosed to a TSH goal of 0.1 to 0.5 mu/L. High risk patients including those who have extensive metastatic disease or incomplete resection are given higher doses of thyroid hormone with a TSH goal of <0.1 mu/L to prevent cancer recurrence.
At subsequent follow up visits, patients are evaluated for their response to overall cancer treatment and are categorized into four groups: 1) excellent response to treatment (no evidence of cancer recurrence), 2) biochemical incomplete response (elevations in thyroglobulin tumor marker levels), 3) structural incomplete response (local or metastatic disease present) or 4) indeterminate response (nonspecific imaging findings or slight elevations in tumor marker levels). Patients with high risk of recurrence, as well as those with structural incomplete response benefit the most from aggressive TSH suppression and are treated accordingly. In patients with excellent response to treatment with no evidence of disease, thyroid hormone treatment can be decreased, even in initially high-risk patients after 5 years. If a patient has a recurrence, then a higher dose of thyroid hormone treatment may be recommended in the future.
In summary, thyroid hormone replacement should be tailored to patients individually based on their initial risk for thyroid cancer recurrence as well as their response to treatment over time to avoid under treatment of high-risk patients and overtreatment of low risk patients. Risk of thyroid cancer growth and recurrence should be balanced with risk of long-term side effects of over-suppression.
References:
1. Haugen BR, Alexander EK, Bible KC, Doherty GM, Mandel SJ, Nikiforov YE, Pacini F, Randolph GW, Sawka AM, Schlumberger M, Schuff KG, Sherman SI, Sosa JA, Steward DL, Tuttle RM, Wartofsky L. 2015 American Thyroid Association Management Guidelines for Adult Patients with Thyroid Nodules and Differentiated Thyroid Cancer: The American Thyroid Association Guidelines Task Force on Thyroid Nodules and Differentiated Thyroid Cancer. Thyroid. 2016 Jan;26(1):1-133.
2. Tarasova VD, Tuttle RM. A Risk-adapted Approach to Follow-up in Differentiated Thyroid Cancer. Rambam Maimonides Med J. 2016 Jan 28;7(1):e0004. doi: 10.5041/RMMJ.10231. PMID: 26886955; PMCID: PMC4737510.
3. Tuttle RM, Alzahrani AS. Risk Stratification in Differentiated Thyroid Cancer: From Detection to Final Follow-up. J Clin Endocrinol Metab. 2019 Mar 15;104(9):4087–100.
4. Grani G, Ramundo V, Verrienti A, Sponziello M, Durante C. Thyroid hormone therapy in differentiated thyroid cancer. Endocrine. 2019 Oct;66(1):43-50.
5. Biondi B, Cooper DS. Thyroid Hormone Suppression Therapy. Endocrinol Metab Clin North Am. 2019 Mar;48(1):227-237.
6. Grani G, Zatelli MC, Alfò M, Montesano T, Torlontano M, Morelli S, Deandrea M, Antonelli A, Francese C, Ceresini G, Orlandi F, Maniglia CA, Bruno R, Monti S, Santaguida MG, Repaci A, Tallini G, Fugazzola L, Monzani F, Giubbini R, Rossetto R, Mian C, Crescenzi A, Tumino D, Pagano L, Pezzullo L, Lombardi CP, Arvat E, Petrone L, Castagna MG, Spiazzi G, Salvatore D, Meringolo D, Solaroli E, Monari F, Magri F, Triggiani V, Castello R, Piazza C, Rossi R, Ferraro Petrillo U, Filetti S, Durante C. Real-World Performance of the American Thyroid Association Risk Estimates in Predicting 1-Year Differentiated Thyroid Cancer Outcomes: A Prospective Multicenter Study of 2000 Patients. Thyroid. 2021 Feb;31(2):264-271.
Disclaimer:
The ideas and opinions expressed on the ATA Blogs do not necessarily reflect those of the ATA. None of the information posted is intended as medical, legal, or business advice, or advice about reimbursement for health care services. The mention of any product, service, company, therapy or physician practice does not constitute an endorsement of any kind by ATA. ATA assumes no responsibility for any injury or damage to persons or property arising out of or related to any use of the material contained in, posted on, or linked to this site, or any errors or omissions.
For more information on Thyroid Topics please visit: https://www.thyroid.org/thyroid-information/