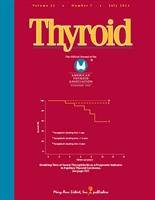 New Impact Factor *4.327!
Editor-in-Chief: Charles H. Emerson, MD
We are pleased to announce the 2010 Impact Factor for Thyroid is 4.327, a 66% increase from last year. Thyroid is the leading, peer-reviewed publication in thyroid cancer and all thyroid related fields. Now in its 21st year this monthly Journal publishes original articles and reviews that reflect the rapidly advancing changes in our understanding of thyroid physiology and pathology, from the molecular biology of the cell to clinical management of thyroid disorders. Thyroid is the exclusive source for the authoritative and updated American Thyroid Association Guidelines for Managing Thyroid Disease.
We invite you to explore a sample online issue and become a subscriber to the leading journal in the field.
Advantages of submitting your research to Thyroid…
Rapid peer review • Fast track article publication • Open access options • Abstracting and indexing in all key services • Readership in more than 140 countries • Outstanding editorial board and reputation of journal • Dedicated author support team
Official Journal of the American Thyroid Association
*2010 Journal Citation Reports® Published by Thomson Reuters, 2011