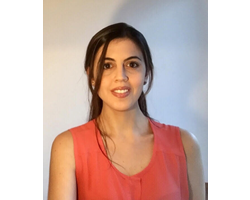 Cintia Eliana Citterio, Ph.D.
Instituto de Inmunología, Genética y Metabolismo (INIGEM),
Universidad de Buenos Aires (UBA) –
Consejo Nacional de Investigaciones Científicas y Técnicas (CONICET)
Buenos Aires, Argentina

Bio
The American Thyroid Association has awarded a 2018 Research Grant to Cintia Eliana Citterio, PhD, Assistant Professor of Genetics and Molecular Biology at the Instituto de Inmunología, Genética y Metabolismo (INIGEM), Universidad de Buenos Aires (UBA) – Consejo Nacional de Investigaciones Científicas y Técnicas (CONICET). Dr. Citterio's project is called "De novo triiodothyronine (T3) formation in T3 toxicosis of Graves' Disease."
The project focuses on identifying T3-forming sites in thyroglobulin (TG, the protein from which thyroid hormone is made) that are responsible for excess T3 production in patients with autoimmune hyperthyroidism or Graves' Disease (GD). The long-term objectives are:
To dissect the molecular mechanisms that underlie de novo T3 synthesis in GD and in other thyroid conditions that are characterized by hyperactive thyroid TSH-receptors and preferential T3 formation within thyroglobulin
To understand these mechanisms
To develop treatments that will repair them, if possible
Although thyroid hormone is perhaps the smallest chemical hormone known, the TG protein is a very large, complex molecule that has been very difficult to understand. Thyroid stimulating hormone (TSH) stimulates synthesis of the hormone by binding to a receptor (called TSH-receptor), which triggers many responses in the thyroid gland, including making more of the active thyroid hormone called T3. For reasons yet to be discovered, the TG protein sometimes makes too much T3, causing the anxiety, irritability, weight loss, enlargement of the thyroid gland, bulging eyes, and/or other symptoms that combine to indicate Graves' Disease or related diseases.
Dr. Citterio proposes that, when TSH stimulates the thyroid gland, the TG protein structure is modified by a special enzyme that increases the ability of TG to make T3. She has evidence that this special enzyme, named Fam20C, can add a phosphate residue at a particular site on the TG molecule, changing its structure. Increasing the amount of Fam20C in thyroid cells results in those cells making a TG protein that produces more T3; inhibiting the enzyme results in less T3 production. In GD, the stimulated thyroid gland makes more of the Fam20C enzyme; Dr. Citterio believes this is why patients end up with too much T3 in their blood.
This project will attempt to find the specific location on the TG molecule where the extra T3 is released, which is likely from one of three sites. Using mutagenesis to eliminate each of those sites one at a time, Dr. Citterio will then test the TG protein to see whether it still makes more T3 in cells that express more of the Fam20C enzyme, or in thyroid cells stimulated with a lot of TSH. The long-term objective is to understand, at a molecular level, why patients with Graves' disease (and some other diseases) make too much T3.
Dr. Citterio received her undergraduate degree from the UBA with a double major in biochemistry (Certificate of Honor) and pharmaceutical sciences. Her interest in thyroid function and disease began during her PhD research (completed in 2014, Summa Cum Laude) under the direction of Dr. Héctor M. Targovnik at the UBA. She has since published her research in 16 publications. In 2014, she was named a Fulbright Scholar to conduct postdoctoral studies in Dr. Peter Arvan's lab at the University of Michigan, where she developed a new assay to measure de novo T3 formation within thyroglobulin secreted from hyperstimulated thyrocytes (Citterio et al., 2017) and characterized the molecular mechanisms of T3 formation at the antepenultimate tyrosine residue of thyroglobulin (Citterio et al., 2018).
Dr. Antonio Di Cristofano, Chair, ATA Research Committee, says, "The ATA research grant program represents a unique and invaluable mechanism to foster the development of a new generation of basic, translational, and clinical researchers. Through this program, we allow these outstanding young scientists to test innovative hypotheses and generate preliminary data that will give them a significant competitive advantage when applying for traditional NIH-type funding.
This year we received 63 applications from 18 countries, spanning the whole spectrum of thyroid-related research. While, through a rigorous process, we have selected the most promising projects for funding, at the same time we regret we had to leave behind a number of excellent proposals. We are extremely thankful for the support we receive from members and organizations, including thyroid cancer survivors, which makes this outstanding program possible and allows the ATA to nurture the next generation of leaders in thyroidology."
The American Thyroid Association (ATA) has awarded 99 thyroid research grants totaling over $2.8 million since the inception of the Research Fund. In addition, the ATA rigorously manages the selection of research projects and the distribution of over $1.8 million generously donated to the ATA specifically for research grants from: ThyCa, the Thyroid Cancer Survivors' Association, Inc.; Bite Me Cancer; and the Thyroid Head and Neck Cancer Foundation.
The Thyroid Cancer Survivors' Association, Inc. (ThyCa), has provided funding since 2003 in support of 72.5 special research grants totaling $2,084,375 focused on thyroid cancer and medullary thyroid cancer. In 2018 ThyCa is supporting half of a new medullary thyroid cancer grant with Bite Me Cancer, two new thyroid cancer research grants, and four renewing grants. ThyCa is a member of the ATA Alliance for Patient Education. Find out more at www.thyca.org.
Bite Me Cancer (BMC) is our newest grant funder, supporting 8.5 thyroid cancer grants since 2014 for a total of $201,250. BMC will be supporting a half of a new medullary thyroid cancer grant in 2018 with ThyCa and one renewing thyroid cancer grant. BMC is a member of the ATA Alliance for Patient Education. Find out more at www.bitemecancer.org.
###
The American Thyroid Association (ATA) is the leading worldwide organization dedicated to the advancement, understanding, prevention, diagnosis, and treatment of thyroid disorders and thyroid cancer. ATA is an international, individual membership organization for over 1,700 clinicians and researchers from 43 countries around the world, representing a broad diversity of medical disciplines. It also serves the public, patients, and their families through education and awareness efforts.
Celebrating its 95th anniversary, ATA delivers its mission through several key endeavors: the publication of highly regarded monthly journals, Thyroid®, Clinical Thyroidology®, VideoEndocrinology, and Clinical Thyroidology for the Public; annual scientific meetings; biennial clinical and research symposia; research grant programs for young investigators; support of online professional, public, and patient educational programs; and the development of guidelines for clinical management of thyroid disease.
Find out more about ATA at www.thyroid.org.