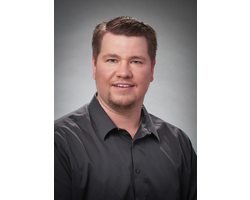 Nicholas J. Tardi,Ph.D.

Rush University Medical Center
Chicago, IL
Bio
The American Thyroid Association has awarded a 2018 Research Grant to Nicholas J. Tardi, PhD, Instructor in Internal Medicine at Rush University Medical Center in Chicago. Dr. Tardi's project is titled "Deiodinase 3: A Thyroid Hormone-Associated Renoprotective Protein."
The long-term goal of this project is to identify the source and mechanism of kidney and thyroid comorbidity. Thyroid hormone (TH) is a circulating, lipid-soluble molecule that plays an important physiological and developmental role in nearly all cells. Accordingly, precise control of TH activity is crucial to maintain metabolic homeostasis in several tissues.
Scientists have known for 30 years about the interplay between kidney disease and TH disorders, yet the underlying mechanism that links these two diseases has yet to be defined. Studying the effect of poor enzyme regulation of TH activity in the kidney may identify a causative disease mechanism. Dr. Tardi's lab has previously shown that deiodinase 3 (D3), an enzyme that deactivates TH, is highly expressed in podocytes, which wrap around the capillaries of kidney filtration units and filter toxins from blood. This suggests that low TH activity is required for proper podocyte function. Mature podocytes cannot divide and cannot be replaced, so it is especially important that they continue to function properly. Unfortunately, they are a primary target of kidney disease. D3-deficient podocytes are more susceptible to injury, indicating that TH stability is important in preventing kidney disease.
Dr. Tardi's laboratory will study the local effect of TH imbalance in both cell and mouse models to determine how D3 protects podocytes from injury. Additionally, they will define the prevalence of D3 misexpression in patients suffering from various kidney diseases. Identifying a local regulatory mechanism causing TH metabolism dysfunction will aid in developing targeted therapies to combat kidney and/or thyroid diseases that share a disease source.
Patients with hyperthyroidism show increased kidney filtration pressure and absorption capacity, while those with hypothyroidism show thickening of the glomerular basement membrane and reduced filtration rate. Despite the prevalence of overlapping complications of thyroid hormone disorders and kidney disease, a unifying mechanism regulating T3 stability in the kidney is absent. Though well studied in endocrine tissues, the role of D3 in the regulation of thyroid hormone in renal tissue has not been addressed in the past. This study will use samples from clinical patients and representative disease models to define a therapeutic target.
Specifically, Dr. Tardi's study will aim to:
Identify pathways associated with D3 dysfunction in podocytes: The laboratory will use microarray experiments to identify D3-responsive genes in podocytes and to screen potential activators and inactivators of D3. They will compare gene-expression profiles under healthy and injury-promoting conditions and set priorities to guide future studies of the signaling events that regulate D3 activity.
Establish the renoprotective mechanism of D3: The lab will use molecular biology-based experiments and morphological analysis to identify the mechanism by which D3 protects against podocyte injury. With confocal microscopy, they will examine cytoskeletal structure for hallmarks of podocyte injury. Protein analysis on known markers of podocyte health, metabolic processes, cellular stress, and protein trafficking will help to determine the mechanism of D3. They will correlate these cellular-level effects with the heavy proteinuria observed in D3-knockout mice models.
Define the prevalence of D3 misexpression in patients with kidney disease at single stages of its development: Dr. Tardi's lab will analyze patient samples from the nephrology clinic at Rush University Medical Center to assess D3 as a potential biomarker for TH-associated kidney disease. They will use this data to develop studies targeting specific deiodinases to treat kidney disease. This is different from current therapeutic approaches that attempt to balance systemic TH levels to prevent the development of overlapping kidney disease.
Dr. Nicholas Tardi earned his PhD in Molecular and Cellular Biology in 2013 from Illinois State University, where he developed expertise in cell signaling, molecular mechanisms of disease, protein biology, and analytical processing to answer questions about cellular regulation of growth control pathways. Since joining Rush University, he has been investigating the molecular mechanisms of thyroid hormone imbalance in kidney disease and characterizing pharmacologically active agents to rescue kidney disease in mice. Recently, he has worked closely with two mentors to develop a niche to study kidney and thyroid comorbidity. Dr. Tardi's passion for research, scientific expertise, and unusual technical perspective is reflected in publications in Nature Medicine, Science, Cell, and Genetics.
Dr. Antonio Di Cristofano, Chair, ATA Research Committee, says, "The ATA research grant program represents a unique and invaluable mechanism to foster the development of a new generation of basic, translational, and clinical researchers. Through this program, we allow these outstanding young scientists to test innovative hypotheses and generate preliminary data that will give them a significant competitive advantage when applying for traditional NIH-type funding.
This year we received 63 applications from 18 countries, spanning the whole spectrum of thyroid-related research. While, through a rigorous process, we have selected the most promising projects for funding, at the same time we regret we had to leave behind a number of excellent proposals. We are extremely thankful for the support we receive from members and organizations, including thyroid cancer survivors, which makes this outstanding program possible and allows the ATA to nurture the next generation of leaders in thyroidology."
The American Thyroid Association (ATA) has awarded 99 thyroid research grants totaling over $2.8 million since the inception of the Research Fund. In addition, the ATA rigorously manages the selection of research projects and the distribution of over $1.8 million generously donated to the ATA specifically for research grants from: ThyCa, the Thyroid Cancer Survivors' Association, Inc.; Bite Me Cancer; and the Thyroid Head and Neck Cancer Foundation.
The Thyroid Cancer Survivors' Association, Inc. (ThyCa), has provided funding since 2003 in support of 72.5 special research grants totaling $2,084,375 focused on thyroid cancer and medullary thyroid cancer. In 2018 ThyCa is supporting half of a new medullary thyroid cancer grant with Bite Me Cancer, two new thyroid cancer research grants, and four renewing grants. ThyCa is a member of the ATA Alliance for Patient Education. Find out more at www.thyca.org.
Bite Me Cancer (BMC) is our newest grant funder, supporting 8.5 thyroid cancer grants since 2014 for a total of $201,250. BMC will be supporting a half of a new medullary thyroid cancer grant in 2018 with ThyCa and one renewing thyroid cancer grant. BMC is a member of the ATA Alliance for Patient Education. Find out more at www.bitemecancer.org.
###
The American Thyroid Association (ATA) is the leading worldwide organization dedicated to the advancement, understanding, prevention, diagnosis, and treatment of thyroid disorders and thyroid cancer. ATA is an international, individual membership organization for over 1,700 clinicians and researchers from 43 countries around the world, representing a broad diversity of medical disciplines. It also serves the public, patients, and their families through education and awareness efforts.
Celebrating its 95th anniversary, ATA delivers its mission through several key endeavors: the publication of highly regarded monthly journals, Thyroid®, Clinical Thyroidology®, VideoEndocrinology, and Clinical Thyroidology for the Public; annual scientific meetings; biennial clinical and research symposia; research grant programs for young investigators; support of online professional, public, and patient educational programs; and the development of guidelines for clinical management of thyroid disease.
Find out more about ATA at www.thyroid.org.