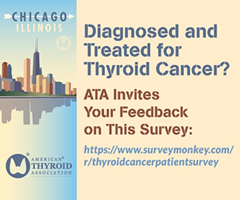 DIAGNOSED AND TREATED FOR THYROID CANCER?
ATA® INVITES YOUR FEEDBACK ON THIS SURVEY:
https://www.surveymonkey.com/r/thyroidcancerpatientsurvey
The American Thyroid Association® (ATA) is collecting information and opinions from patients about their experience with thyroid cancer to better inform medical providers about how patients experience the challenge of thyroid cancer diagnosis and treatment. ATA® encourages anyone with a history of thyroid cancer to take this survey, feel free to disseminate this survey link broadly, and encourage others to take the survey. We also encourage all thyroid healthcare professionals to share this survey with their patients. Survey results will be compiled and discussed by thyroid leaders at the American Thyroid Association Satellite Symposium: The Spectrum of Thyroid Cancer, from Surveillance to Systemic Therapy on Friday, March 16, 2018 from 11:15 AM – 5:30 PM at McCormick Place West in Chicago, IL. Subsequently, survey results will be posted online with free access to the public as well as made available through publication. Your responses are anonymous and should only take a few minutes to complete.
For more information regarding the ATA Spring Satellite Symposium, visit the ATA website at www.thyroid.org or  https://www.thyroid.org/2018-ata-spring-satellite/.
We again appreciate your continued support of ATA® and its initiatives.