Home » 87th Annual Meeting of the American Thyroid Association » Abstracts
Call for Abstracts
Regular Call Abstract Submission:
Site Opens – Wednesday, March 29, 2017
Site Closes – Wednesday, June 7, 2017
Short Call Abstract Submission:
Site Opens – Wednesday, August 9, 2017
Site Closes – Wednesday, August 23, 2017
Submit Abstract
Abstract Presentations
We invite you to submit your new research for oral or poster presentation during the Regular Call Abstract submission period.
Short Call Abstracts are reserved for the presentation of the very latest, important thyroid-related research with high impact. Submission of a Short Call Abstract does not guarantee acceptance for presentation. (Please note that Case Reports are ineligible for consideration as Short Call Abstracts.)
Abstracts may be selected as a Poster Presentation or an Oral Presentation. Only 34 abstracts will be invited for Oral Presentations and 8 will be invited for Short Call Oral Presentations.
Abstract Submission Policy and Responsibilities of the Author
The American Thyroid Association (ATA) requests submission of abstracts for consideration at ATA scientific meetings to feature new data presented as posters or oral presentations. The ATA goal is to provide the audience and the media with new data that are unpublished (in print or electronic) which are being publicly presented for the first time. Authors are asked to strictly comply with this requirement; data that are to become available to the public in the setting of a national or international meeting before their presentation at the ATA meeting are not eligible for presentation at the ATA meeting. Data may be submitted for publication before or after abstract submission to the ATA. However, data accepted for publication prior to the ATA meeting would REQUIRE the authors to request the publisher to embargo their publication (electronic and print) until 8:00 am local time the first day of the ATA meeting, or would REQUIRE the authors to withdraw their abstract from the ATA meeting. Many editors are favorable to embargo requests because of the attention that may be drawn to the publication after original presentation of the data at a major meeting. Further, the authors are welcome to announce the date and place of their anticipated publication if known. Authors that do not comply with this policy may be restricted from future abstract submissions for a term to be determined by the ATA Executive Committee. Arbitration, if needed, will occur via the ATA Board of Directors.
Additional Policies
Character Limit: There is a limit of 2,245 characters (approx. 300 words) for the text of your submission.
Authors of accepted posters are required to register and be present during the assigned poster sessions.
Scientific materials presented must not have been submitted for publication at the time of abstract submission or presented at a scientific meeting before the 87th Annual Meeting of the ATA. (local and regional meetings excluded).
All abstracts must be submitted via the ATA Abstract site (http://ataannual2017.abstractcentral.com/).
Authorship on multiple abstracts is permitted.
Case reports are ineligible for consideration as Short Call Abstracts
Download and Save Call for Abstracts (PDF File 239 KB)
Download and Save ATA Abstract Submission and Presentation Guide (PDF File 3.8 MB)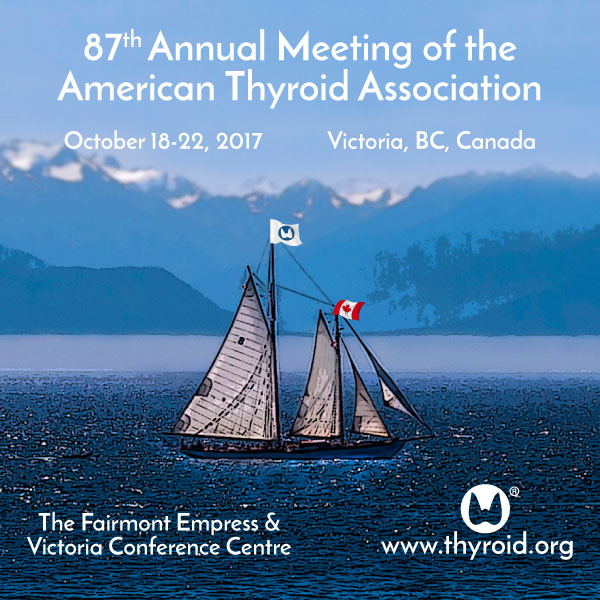 Abstract Categories Clinical, basic, translational abstracts or case reports may be submitted in the following categories:
• Autoimmunity
• Disorders of Thyroid Function
• Iodine Uptake and Metabolism
• Thyroid and Development
• Thyroid Cancer
• Thyroid Hormone Action
• Thyroid Hormone Metabolism and Regulation
• Thyroid Imaging
• Thyroid Nodules and Goiter