The ATA patient resource pages are designed to provide up-to-date information for thyroid patients,their families and other interested public communities. The American Thyroid Association is dedicated to serving as an educational resource for the public by supporting thyroid research and promoting the prevention, treatment and cure of thyroid-related diseases and thyroid cancer. See our educational materials in Spanish. ¡Ahora también disponibles en Español!
Clinical Thyroidology for Patients – current issue
From CTFP: High environmental exposure to perchlorate and thiocyanate, in combination with low urinary iodine, is associated with decreased thyroid hormone Iodine, an essential component of thyroid hormone, is transported into thyroid cells through a specialized channel called the sodium-iodine symporter (NIS). more..
Thyroid Cancer Imaging and Therapy in Thyroid Cancer discussed by Drs Iagaru and Farwell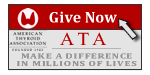 Help Support Thyroid Research and Patient Education
The American Thyroid Association (ATA) – a nonprofit 501(c)3 medical society of researchers and physician scientists who specialize in diseases of the thyroid -is dedicated to improving the lives of the millions of Americans of all ages living with thyroid problems.
Read Current Research funded by donations and the ATA membership.
Please send us your comments and evaluation of our ATA patient education materials on the ATA web site