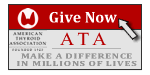 American Thyroid Association® members have long served as advisors, consultants, and speakers for thyroid patient support organizations. As an association, ATA works closely with other highly regarded professional and patient education organizations to maintain the highest level of reliable information to the public and patients.
Professional organizations providing information for patients:
American Academy of Otolaryngology-Head and Neck Surgery
www.entnet.org
American Association of Clinical Endocrinologists
www.aace.com
American Association of Endocrine Surgeons
www.endocrinesurgery.org
International Thyroid Oncology Group
www.itog.org
The Society of Nuclear Medicine and Molecular Imaging (SNMMI)
www.snmmi.org/Patients.aspx

Patient education and support organizations:
~ ATA Alliance for Thyroid Patient Education ~

American Thyroid Association
www.thyroid.org
ATA Patient Resources
Find a Thyroid Specialist

Bite Me Cancer
www.bitemecancer.org
4094 Majestic Lane, Suite 335
Fairfax, VA 22033
Phone: 703-709-2539
email: info@bitemecancer.org
Graves' Disease and Thyroid Foundation
www.NGDF.org


Rancho Santa Fe, California
Phone (toll-free): 1-877-NGDF-123
e-mail: Gravesdiseasefd@gmail.com

Light of Life Foundation
www.checkyourneck.com
Manalapan, NJ 07726
Phone: (toll free) 1-877-LOL-NECK (565-6325)
email: info@checkyourneck.com
ThyCa: Thyroid Cancer Survivors' Association, Inc.


www.thyca.org
New York, NY
Phone (toll-free): 1-877 588-7904
e-mail: thyca@thyca.org

Thyroid Cancer Canada
www.thyroidcancercanada.org
Phone: 1-416-487-8267
e-mail: info@thyroidcancercanada.org

Thyroid Federation International
www.thyroid-fed.org
e-mail: tfi@thyroid-fed.org
Other Patient Education:
Hormone Foundation (promoting understanding of hormones and disease)
www.hormone.org
Magic Foundation (support and education to families of children with growth disorders)
www.magicfoundation.org
NIH (government) educational information:
Clinical Center, National Institutes of Health
http://www.cc.nih.gov/participate.shtml
National Cancer Institute, National Institutes of Health
http://www.cancer.gov/cancertopics/types/thyroid
Talking to Your Doctor Website from NIH
www.nih.gov/clearcommunication/talktoyourdoctor.htm