Editor: Jerome M. Hershman, MD
CLINICAL THYROIDOLOGY®, this highly valued abstract and commentary publication provides a broad-ranging look at the clinical thyroid literature. Experts in the field summarize the most cutting-edge, relevant articles that clinicians should know about and provide insight into the relevance and impact of each article on patient care. Please send editorial questions to Dr. Hershman at clinicalthyroidology@thyroid.org.

Search Clinical Thyroidology®
CURRENT ISSUE
Clinical Thyroidology® Archive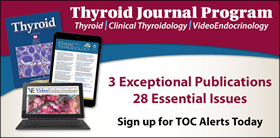 Editor-in Chief
Jerome M Hershman, MD
Distinguished Professor of Medicine
UCLA School of Medicine and
VA Greater Los Angeles Healthcare System
Endocrinology 111D, 11301 Wilshire Blvd.
Los Angeles, CA 90073
Associate Editors:
Albert G Burger, MD
Professor, University of Geneva
Geneva, Switzerland
Edward G. Grant, MD
Professor and Chairman of Radiology
University of Southern California
Los Angeles CA
Jorge H Mestman, MD
Professor of Clinical Medicine and OB/GYN
University of Southern California,
Keck School of Medicine
Los Angeles, CA
Elizabeth N Pearce, MD, MSc
Associate Professor of Medicine
Boston University School of Medicine
Boston, MA
Wendy Sacks, MD
Cedars-Sinai Medical Center
Department of Medicine
Health Sciences Assistant Clinical Professor
University of California, Los Angeles
Stephen W Spaulding, MD
Professor of Medicine
Department of Medicine
University at Buffalo, SUNY
Cord Sturgeon, MD
Associate Professor of Surgery
Director of Endocrine Surgery
Northwestern University
Feinberg School of Medicine
Chicago, IL
American Thyroid Association
President
Hossein Gharib, MD
Secretary/Chief Operating Officer
John C Morris, MD
Treasurer
Gregory W Randolph, MD
President-Elect
Robert C Smallridge, MD
Past-President
Bryan R Haugen, MD

To view and print downloaded PDF files while online, you need the Adobe Acrobat Reader installed and configured as a "helper" application or "add-on" within your web browser. You can then view and/or print the documents directly from within your browser.