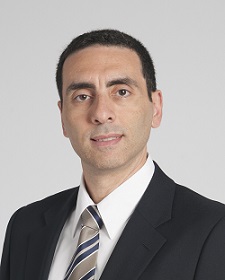 Christian Nasar. MD
Cleveland Clinic Foundation, Cleveland, OH
September 21, 2020
Thyroid nodules are common with a prevalence of about 5% on palpation and 40-60% on neck ultrasound. They carry a risk of malignancy of about 5-15%. Even when malignancy is present, the outcome is generally favorable.
Since the main question is whether a nodule is malignant, one needs to have a diagnostic test that will provide a reliable result with good sensitivity and specificity to decide which nodule needs to be removed. Percutaneous fine needle aspiration (FNA) cytology has been used in North America since the mid-seventies. Before that, resection of the lobe containing the nodule was the only accepted procedure for definitive diagnosis.
The purpose of the FNA is really to determine the risk of malignancy (ROM) in the sample. Cytology can be:
• benign (ROM 0-3%)
• malignant (ROM 94-99%)
• atypia of undetermined significance, follicular lesion of undetermined significance (AUS/FLUS, ROM 6-30%)
• suspicious for follicular neoplasm (SFN, ROM 10-40%)
• Suspicious for malignancy (SM, ROM 45-75%)
• non-diagnostic (ROM 5-10%)
The ROM is a range that is determined based on an in-depth review of the adequate literature that led to the publication of "The Bethesda System of Reporting Thyroid Cytopathology" (TBSRTC). The ROM is variable and is institution dependent. Note that even when benign, cytology may still miss malignancy in up to 3% of cases.
In cases of benign cytology, the recommendation is to monitor periodically with imaging. In cases of malignancy or suspicion for malignancy, the recommendation is typically to undergo surgery (lobectomy or total thyroidectomy).
The dilemma arises when the cytology is in the grey area of indeterminate cytology (AUS/FLUS or SFN) where the recommended next steps were historically either repeating the FNA or performing diagnostic lobectomy. These indeterminate nodules have puzzled thyroidologists for decades because most nodules were still benign on final histology.
The uncertainty about ROM in cytological specimens was the driver for the development of molecular methods that would analyze FNA samples beyond just looking under the microscope. A particularly successful form of molecular testing (MT) has been the determine mutation in DNA or changes in RNA expression that are predictive of benign or malignant nodules. To be accepted as a good method, such MT needs to have a good sensitivity and specificity as well as good positive predictive value (PPV) and negative predictive value (NPV). To rule out malignancy, one needs a test with high sensitivity and high NPV. To rule in malignancy, one needs a test with high PPV and high specificity.
Note that the above parameters are influenced by the known prevalence of disease in the population served by the respective institution. These tests are most useful in the categories of AUS/FLUS and SFN to lower or increase the suspicion for malignancy and help inform the decision to monitor or resect. There are currently multiple platforms for MT but the 3 that are most used are described below:
Thyroseq is in its 3rd version and analyzes the sample for known DNA and RNA alterations that are markers of benign or possibly malignant lesions. This test has a sensitivity of 98% and a specificity of 82% for distinguishing benign from possibly malignant nodules.
Afirma Gene Sequencing Classifier (GSC) is an RNA-based test that uses machine learning to classify lesions as benign or possibly malignant. Similar to ThyroSeq, it is mostly a rule-out test with acceptable rule-in capability. The NPV is 96% (residual ROM of 4%). The PPV is 50%.
A third test is ThyGeNEXT/ThyraMIR which uses a combination of two tests. The first test uses a mutation panel. If no mutation is found, another test is performed looking for micro-RNA (miRNA) markers. MicroRNAs are short single-stranded non-coding RNA segments and abnormal expression has been found in thyroid cancers. The reported parameters for the original test were: sensitivity 93%, specificity 90%, NPV 95% and PPV 74%.
How are these tests used?
One of these tests is generally used in cases of AUS/FLUS or SFN cytology. One or two dedicated FNA passes (depending on the test) are required and the sample is dropped in a tube with special medium provided by the company. The workflow depends on the agreement between the institution and the company. The company may agree to accept the cytology reading provided by the institution or they may ask that cytology samples and MT samples be sent to a central lab. Some samples need to be shipped frozen. Some testing can also be performed on the slides obtained from the original cytology sample. Procedures vary, with some preferring to collect the MT samples at the time of the initial FNA to avoid bringing the patient back for a repeat FNA.
Generally speaking, if a MT results in a "benign" diagnosis, the patient is followed similarly to a benign cytology result. This follow up is typically with serial ultrasounds to ensure stability of the nodule. If the MT diagnosis results as "possibly malignant", the general recommendation is to move forward with surgical removal (lobectomy or total thyroidectomy).
Conclusion:
Thyroid nodules are common; thyroid cancer is rare. Molecular testing complements cytology to help triage thyroid nodules into those that can be monitored and those that should be resected. It has replaced diagnostic lobectomy as the next step in the management of indeterminate nodules and has saved 50% of patients from undergoing surgery. Histology, however, still remains the gold standard, so patients who do not undergo surgery must be followed with serial imaging to ensure stability of their nodules.
For further reference:
2015 American Thyroid Association Management Guidelines for Adult Patients with Thyroid Nodules and Differentiated Thyroid Cancer: The American Thyroid Association Guidelines Task Force on Thyroid Nodules and Differentiated Thyroid Cancer
Thyroid Nodules Brochure | by the American Thyroid Association
Disclaimer:
The ideas and opinions expressed on the ATA Blogs do not necessarily reflect those of the ATA. None of the information posted is intended as medical, legal, or business advice, or advice about reimbursement for health care services. The mention of any product, service, company, therapy or physician practice does not constitute an endorsement of any kind by ATA. ATA assumes no responsibility for any injury or damage to persons or property arising out of or related to any use of the material contained in, posted on, or linked to this site, or any errors or omissions.