Donate to education and research for thyroid disease and thyroid cancer!
With your help, there is new hope for the millions of people who suffer from thyroid disease.
The American Thyroid Association® (ATA) — a nonprofit medical society composed of researchers and physicians who specialize in diseases of the thyroid — is dedicated to improving the lives of the millions of Americans of all ages living with thyroid problems.
Your gift can lead to new ways to prevent, treat, and cure thyroid-related diseases. Your support makes a real difference!

Your tax-deductible contribution helps to support valuable patient education and crucial thyroid research.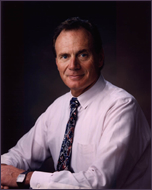 Ridgway legacy fund created to honor commitment to education, mentorship, scholarship and patient care
The American Thyroid Association has launched a very important campaign to honor Dr. E. Chester "Chip" Ridgway, former ATA President, and mentor and friend to so many endocrinologists.
Chip was the founder of the Fellows Conference at the ATA Annual Meeting; and for two decades, he was its champion. Consequently, it is very fitting to name and perpetuate support for this ATA program in memory of Chip, whose career was dedicated to the education and encouragement of future thyroidologists. To honor him the ATA named the hugely successful "E. Chester Ridgway Trainee Conference" at the 84th Annual Meeting in Coronado, California.
Support the ATA E. Chester Ridgway Trainee Conference. This program was near and dear to Chip's heart. Supporting this campaign to ensure its future will be a wonderful way both to perpetuate his memory and advance the careers of the trainees to which he was so devoted.