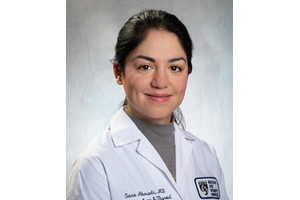 Patient's Preferences Around Available Treatment Options for Thyroid Cancer
Sara Ahmadi, MD, ECNU
Brigham and Women's Hospital
Boston, MA
November 19, 2021
Thyroid nodules and thyroid cancer are common clinical problems in adults. The yearly incidence of thyroid cancer in the United States has almost tripled from 4.9 per 100,000 in 1975 to 14.3 per 100,000 in 2009. It has been predicted that thyroid cancer will replace colorectal cancer as the fourth leading cancer diagnosis by 2030(1,2).
Surgery is the primary treatment for thyroid cancer. Most patients with differentiated thyroid cancer have an excellent outcome with a 98% long-term disease-specific survival.
Traditional therapy with total thyroidectomy and radioactive iodine(RAI) has not shown added benefit in patients with low-risk differentiated thyroid cancer and might result in more harm. Thyroid lobectomy, selective use of radioactive iodine, and active surveillance have gained attention in recent years. They have been recommended as potential management options for low-risk thyroid cancer and micropapillary thyroid cancer in the current American Thyroid Association guidelines(2). This has led to significant changes in clinical practice. A study of 35,291 patients using National Surgery Quality Improvement Program Data showed that there has been a 10-fold increase in the rate of thyroid lobectomy rather than total thyroidectomy after the publication of 2015 ATA guidelines(3).
However, many patients with differentiated thyroid cancer may overestimate the mortality implications, which may drive their willingness to undergo more aggressive treatment(4).
The Discrete Choice Survey Study of a cohort of 150 patients with newly diagnosed differentiated thyroid cancer or thyroid nodule requiring surgery showed that risk of thyroid cancer recurrence impacted patient's preference around surgical treatment options the most, followed by risk of requiring completion thyroidectomy and recurrent laryngeal nerve injury. The risk of hypocalcemia and hypothyroidism had the least impact on patients' preferences around treatment options. This study also showed that the average patient would prefer total thyroidectomy unless the risk of requiring completion thyroidectomy can be reduced to 30% or less(5).
Patients' concern and worry can also limit their acceptability of less aggressive treatment options. A survey of 243 patients with papillary thyroid cancer enrolled in an active surveillance program showed cancer worry is common among these patients. However, the patient's level of concern improves over time(6).
Patient-physician communication also plays an essential role in providing the patient with a good understanding of the risks and benefits of different treatment options and an informed decision-making process. Computerized patient decision aids in addition to usual care can be associated with a significant increase in patients' medical knowledge around treatment options and a reduction in decisional conflict at the time of decision making(7). In a recent study, 1319 patients with thyroid cancer in whom selective use of radioactive iodine was recommended were surveyed to assess patient perspectives regarding RAI decision making. More than half of the patients perceived they did not have a choice regarding RAI. These patients were also more likely to receive RAI and to have lower decision satisfaction(8).
There has been a significant change in clinical practice since the publication of the 2015 ATA guidelines. It is of vital importance that we improve our understanding of patients' preferences, ensure excellent patient-physician communication, and use educational decision aids in conjunction with physician counseling to facilitate shared-decision making.
References:
1. Rahib L, Smith BD, Aizenberg R, Rosenzweig AB, Fleshman JM, Matrisian LM. Projecting cancer incidence and deaths to 2030: the unexpected burden of thyroid, liver, and pancreas cancers in the United States. Cancer research. 2014;74(11):2913-2921.
2. Haugen BR, Alexander EK, Bible KC, et al. 2015 American Thyroid Association Management Guidelines for Adult Patients with Thyroid Nodules and Differentiated Thyroid Cancer: The American Thyroid Association Guidelines Task Force on Thyroid Nodules and Differentiated Thyroid Cancer. Thyroid : official journal of the American Thyroid Association. 2016;26(1):1-133.
3. Ullmann TM, Gray KD, Stefanova D, et al. The 2015 American Thyroid Association guidelines are associated with an increasing rate of hemithyroidectomy for thyroid cancer. Surgery. 2019.
4. Dixon PR, Tomlinson G, Pasternak JD, et al. The Role of Disease Label in Patient Perceptions and Treatment Decisions in the Setting of Low-Risk Malignant Neoplasms. JAMA Oncol. 2019.
5. Ahmadi S, Gonzalez JM, Talbott M, et al. Patient Preferences Around Extent of Surgery in Low-Risk Thyroid Cancer: A Discrete Choice Experiment. Thyroid : official journal of the American Thyroid Association. 2020;30(7):1044-1052.
6. Davies L, Roman BR, Fukushima M, Ito Y, Miyauchi A. Patient Experience of Thyroid Cancer Active Surveillance in Japan. JAMA Otolaryngol Head Neck Surg. 2019;145(4):363-370.
7. Sawka AM, Straus S, Rodin G, et al. Thyroid cancer patient perceptions of radioactive iodine treatment choice: Follow-up from a decision-aid randomized trial. Cancer. 2015;121(20):3717-3726.
8. Wallner LP, Reyes-Gastelum D, Hamilton AS, Ward KC, Hawley ST, Haymart MR. Patient-Perceived Lack of Choice in Receipt of Radioactive Iodine for Treatment of Differentiated Thyroid Cancer. J Clin Oncol. 2019;37(24):2152-2161.
Disclaimer:
The ideas and opinions expressed on the ATA Blogs do not necessarily reflect those of the ATA. None of the information posted is intended as medical, legal, or business advice, or advice about reimbursement for health care services. The mention of any product, service, company, therapy or physician practice does not constitute an endorsement of any kind by ATA. ATA assumes no responsibility for any injury or damage to persons or property arising out of or related to any use of the material contained in, posted on, or linked to this site, or any errors or omissions.
For more information on Thyroid Topics please visit: https://www.thyroid.org/thyroid-information/

We invite you to submit any questions or comments regarding this blog post below, for potential response in a future blog or social media post.