WHAT IS THYROID EYE DISEASE?
Thyroid eye disease (abbreviated as TED) is an autoimmune disease that affects some people with autoimmune thyroid disease. TED is most common in people with hyperthyroidism due to Graves' disease and rarely, may occur in patients with normal or low thyroid levels.
About one in every three people with Graves' disease develop eye symptoms.
While eye symptoms can occur at any time, they usually appear within the first year of diagnosis of Graves' disease.
TED is usually mild and gets better on its own over time.
Some cases can be quite severe and can require medications or surgery.
It may be helpful for you to first understand more about the tissues and structures that surround your eye.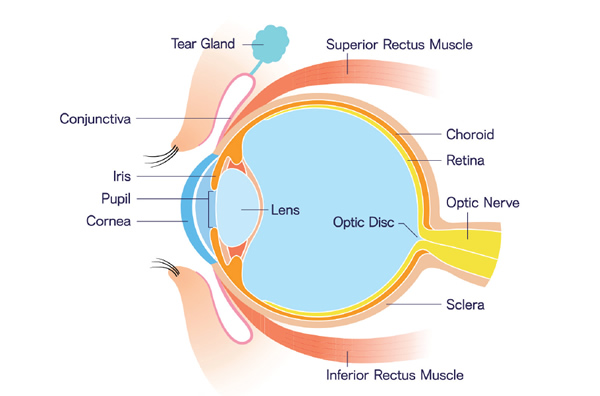 Each of your eyes has four main muscles. One muscle is attached to each side of the eyeball. These muscles allow you to move your eyes to look in different directions.
Your eyeballs and muscles are cushioned by fatty tissue. These are surrounded by bone (your eye sockets) on all sides except the front.
Within your eye sockets there are also blood vessels and nerves. These feed and support your eye tissues.
Each eye has an optic nerve which is critical for your vision. The optic nerve helps connect your eye to your brain to register what you see.
In TED, your body makes antibodies which attack soft tissues (the cushion of fatty tissue and the eye muscles) around your eyeball and cause them to swell up and enlarge (thicken). This can result in changes to how your eyes look and feel and how well you see.
The swelling causes pressure on the tissues within your eye socket squeezing the muscles, blood vessels and nerves.

If your eye muscles are swollen and tight, they cannot move your eyes normally. This can result in double vision. Your eyes can look red and puffy ("congested")
If your optic nerve is compressed, signals from the eye to the brain can be blocked and cause loss of vision. This is an emergency and needs immediate treatment.

The swelling can also push the eye forward toward the front opening of your eye socket
As your eyeball is pushed forward, this can cause your eyes to look bigger or cause bulging of your eyes (called "proptosis").
Your eyelids can be pulled open more than usual. This can cause you to look like you are staring. You might not be able to completely close your eyelids.

The open eyelids can also cause your eyes to feel dry and cause extra tearing of your eyes.