Registration
2019 ATA Annual Meeting registration is offered through ATA's official, longstanding registration vendor QMS Services, Inc. (QMS).
ATA IS UNDERGOING WEBSITE MAINTENANCE. ATA ANNUAL MEETING REGISTRATION IS EXPECTED TO OPEN BY LATE MAY.  PLEASE REVISIT THE ANNUAL MEETING WEBPAGES FOR UPDATES AS AVAILABLE. WE APPRECIATE YOUR PATIENCE.
 A link to register online or download the print registration form will be available on this page once the site opens. Please note that an additional $25 will be automatically applied to all registrations submitted via paper. Specialty courses and events may require an additional fee.
If you have registration questions, please contact ATA's registration vendor QMS directly via phone at 678-341-3056 or via E-mail at  ATA@prereg.net.
Housing
Visit the Housing page for more information
ATA REFUND POLICY: Refund requests must be submitted using the ATA Refund Request Form. Requests submitted by fax or e-mail on or before August 12, 2019, will receive a registration refund less $150 USD or 50% processing fee (whichever amount is lower). Cancellation of Trainee and Guest registration are subject to a $50 cancellation processing fee per registration if cancellation request received on or before August 12, 2019. Pre-meeting programming and optional ticketed sessions purchased are subject to a $75 USD (each) cancellation processing fee. No refunds for registration or programming will be granted if submitted after August 12, 2019 (no exceptions). No refunds will be granted for no-shows. All refunds will be processed 30 days after the conclusion of the 89th Annual Meeting of the ATA.
PHOTOGRAPHY/RECORDING WAIVER AND ACKNOWLEDGEMENT: By participating in the ATA Annual Meeting, you agree that any photographs, videos or audio which contain your image or voice may be used with ATA discretion in marketing, website and print materials. To protect the research and professional efforts of the faculty participating at the ATA meeting, you agree and acknowledge that recording devices of any kind (including audio, video, cell, or still photography) to collect ATA Annual Meeting faculty audio or presentation slides is strictly prohibited.
ATA 89th ANNUAL MEETING REGISTRATION RATES AND CATEGORIES All rates shown are in U.S. Dollars
ONLINE REGISTRATION RATES
(Additional $25 per application fee for paper submitted forms)
EARLY BIRD
(BY JUL 1)
DISCOUNTED
(JUL 2 – SEP 3)
FULL FEE
(AFTER SEP 4)
ATA MEMBER
(Discounts are available for seniors and emeritus ATA members with promo code; request at meetings@thyroid.org)
$695
$840
$940
ATA MEMBER RESEARCHER (PHD ONLY)
$520
$630
$705
NON-MEMBER
(Local non-member rate available to residents of Chicago, IL and the immediate surrounding suburbs with promo code; request code at meetings@thyroid.org)
$1095
$1240
$1340
ATA TRAINEES (ASSOCIATE MEMBERS)
$275
$325
$375
NON-MEMBER TRAINEE/FELLOW/STUDENT
(Trainee status verification required)
$350
$400
$450
ATA TRAINEES GRANT PROGRAM
(Grant program details and deadlines will be posted online as available)
$275
$325
$375
ATA ADVANCED THYROID PROFESSIONAL MEMBER
$420
$530
$630
NON-MEMBER ADVANCED THYROID PROFESSIONAL
(Available to NP, PA, RN, PharmD and other non-MDs or PhDs)
$520
$630
$705
PRESS
(verification required)
$0
$0
$0
DAILY REGISTRATION RATES
(One selection allowed; select full registration rate for multiple day registration)
10/30-31/2019: Wednesday 5:00 PM/Thursday Only
11/1/2019: Friday Only
11/2-3/2019: Saturday/Sunday Only
$350
$425
$495
SPOUSE/GUEST
(Registration admits attendee (with badge only) to welcome reception, coffee breaks, exhibit hall & annual banquet at a reduced, additional rate)
$150
$175
$200
EXHIBITOR REGISTRATION
A separate registration link will be provided by QMS to all confirmed exhibitors by summer 2019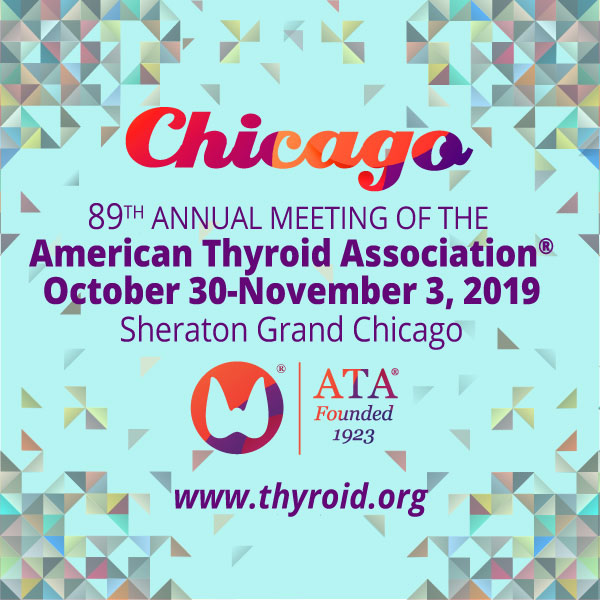 ATA Annual Meeting Important Deadlines:
Meeting Registration and Housing Open: Late May 2019
Regular Call Abstract Submission Site Opens: Wednesday, April 10, 2019
Regular Call Abstract Submission Site Closes: Wednesday, June 19, 2019
Ridgway Trainees Conference Grant Application Process Closes: Thursday, June 21, 2019
Early Bird Registration Deadline: Monday, July 1, 2019
Short Call Abstract Submission Site Opens: Wednesday, August 14, 2019
Short Call Abstract Submission Site Closes: Wednesday, August 28, 2019
Discounted Registration Deadline: Tuesday, September 3, 2019
ATA SATELLITE EVENTS AND MEETINGS
A full list of ATA-organized events will be listed once available. Below is a tentative list of programs and pricing.
Date and Time
Price
Advanced Endocrine Neck Ultrasound Course
(limited space; pre-registration required)
Wednesday, 10/30/2019, 6:15 AM – 4:30 PM
$450
Ridgway Trainee Conference Special Programming
(Open to all with Annual Meeting registration unless otherwise noted; fees noted where appropriate)
     • Trainees Clinical/Translational Pre-Day Program (fee for non-trainees)
Wednesday, 10/30/2019, 8:00 AM – 4:00 PM
$150
     • Trainees Basic Pre-Day Program (same programming offered in clinical trainee course above; open to basic trainees only with pre-registration)
Wednesday, 10/30/2019, 8:00 AM – 4:00 PM
$0
     • Surgical Program for Trainees (open to trainees only)
Thursday, 10/31/2019, 8:50 AM – 11:45 AM
$0
     • Trainee Introduction to Ultrasound Course (open to trainee grant recipients only; designed for trainees with limited ultrasound training in their programs)
Thursday, 10/31/2019, 1:45 PM – 3:15 PM
$0
ATA Opening Networking Reception (open to all registered attendees; badge required)
Wednesday, 10/30/2019, 6:30 PM – 7:30 PM
$0
ATA Committee Meetings (open to active 2019 ATA committee members only)
Wednesday, 10/30/2019, 2:45 PM – 4:00 PM
$0
Women in Thyroidology Business Meeting (open to registered attendees with sign up)
Thursday, 10/31/2019, 7:00 AM – 8:00 AM
$0
ATA Annual Business Meeting (open to ATA members only)
Thursday, 10/31/2019, 6:10 PM – 7:10 PM
$0
ATA ANNUAL BANQUET (Actual value=$225 per person; select appropriate rate):
Friday, 11/1/2019 7:30 PM – 9:30 PM
     • Registered Attendee or Registered Spouse/Guest Annual Banquet Fee
$100
     • Registered Trainee or Registered Trainee Spouse/Guest Annual Banquet Fee
$75
     • Non-Registered Attendee, Spouse/Guest, Press Banquet Fee
$150