GENERAL INFORMATION
Your doctor may recommend that you consider thyroid surgery for 4 main reasons:
You have a nodule that might be thyroid cancer.
You have a diagnosis of thyroid cancer.
You have a nodule or goiter that is causing local symptoms – compression of the trachea, difficulty swallowing or a visible or unsightly mass.
You have a nodule or goiter that is causing symptoms due to the production and release of excess thyroid hormone – either a toxic nodule, a toxic multinodular goiter or Graves' disease.
The extent of your thyroid surgery should be discussed by you and your thyroid surgeon and can generally be classified as a partial thyroidectomy or a total thyroidectomy. Removal of part of the thyroid can be classified as:
An open thyroid biopsy – a rarely used operation where a nodule is excised directly;
A hemi-thyroidectomy or thyroid lobectomy – where one lobe (one half) of the thyroid is removed;
An isthmusectomy – removal of just the bridge of thyroid tissue between the two lobes; used specifically for small tumors that are located in the isthmus.
Finally, a total or near-total thyroidectomy is removal of all or most of the thyroid tissue. (Figure 1)
The recommendation as to the extent of thyroid surgery will be determined by the reason for the surgery. For instance, a nodule confined to one side of the thyroid may be treated with a hemithyroidectomy. If you are being evaluated for a large bilateral goiter or a large thyroid cancer, then you will probably have a recommendation for a total thyroidectomy. However, the extent of surgery is both a complex medical decision as well as a complex personal decision and should be made in conjunction with your endocrinologist and surgeon.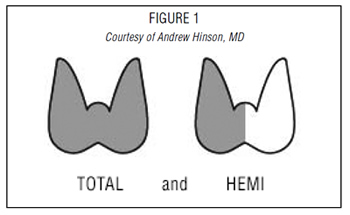 Thyroid Surgery FAQs
QUESTIONS AND CONSIDERATIONS
When thyroid surgery is recommended, patients should ask several questions regarding the surgery including:
Why do I need an operation?
Are there other forms of treatment?
How should I be evaluated prior to the operation?
How do I select a surgeon?
What are the risks of the operation?
How much of my thyroid gland needs to be removed?
Will I need to take a thyroid pill after my operation?
What can I expect once I decide to proceed with surgery?
What will be my physical restrictions following surgery?
Will I lead a normal life after surgery?

Printable Brochures